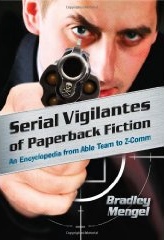 Thank you, Bradley Mengel! You have saved me hours of time for when I do my weekly "Bullets, Broads, Blackmail & Bombs" column, because SERIAL VIGILANTES OF PAPERBACK FICTION: AN ENCYCLOPEDIA FROM ABLE TEAM TO Z-COMM is a one-stop shop for all things men's adventure.
In his introduction, Mengel explains the reasons of how these books fit into a subgenre of fiction, but are never classified under just one term. The genre is, of course, men's adventure, to which most publishers seem to have a hard time committing. One prime example: Three consecutive novels from THE DESTROYER series are each classified under something different.
The bulk of SERIAL VIGILANTES goes through a litany of series, most of which would have probably fallen into obscurity, if not for this helpful tome. Each series is broken down first by title and main character. Then, Mengel gives the backstory and history, quickly followed by "Behind the Scenes," which is where this book shines. He has probably poured over pages upon pages to give the readers the real stories — namely, the true authors of these novels and how these series came to be.
He also cross-references them to other series, if they ever had crossovers. Then comes the highlight for this reviewer: chronological lists of the books that are part of each series, with the real writers listed, since most of the titles were written under house names. Now I have a list of every Nick Carter author ever, so people like Martin Cruz Smith can't hide their pasts. Other BOOKGASM favorites also wrote for this super spy, including Bill Crider and Robert J. Randisi.
There is something missing in SERIAL VIGILANTES, but I can understand why Mengel did not bring it up: whether these series are worth my time. Since this is more an encyclopedia than a collection of reviews, I'll have to make those discoveries myself. Also, I found a few omissions odd, but again, this work focuses on the vilgiante, and not all men's adventure characters. Mengel includes one series some might find head-scratching: Jeff Lindsay's DEXTER. But when you come down to it, Dexter Morgan is a vilgiante in his own weird way.
This book seems like a labor of love. Mengel needs to be commended for all the time and effort that went into the making of this reference work for book geeks like me. In the appendices, he goes through the various parodies, crossovers and references which he discusses in shorter detail earlier in those behind-the-scenes sections. He also writes a piece about the characters who led to this type of publishing, including the female of the species, who, as Mengel points out, seems to get the short end of the stick in these paperbacks. He also discusses TV series or movies that tried to capitalize on this type of reading, only to fizzle and disappear.
SERIAL VIGILANTES is made for a certain group of readers: anyone who has a stack of MACK BOLAN, BARONESS or even PENETRATOR paperbacks on their shelves. This book is going to be my go-to reference guide for years to come, and I've got a feeling it will be dog-eared much sooner than later. If you read this far, then make the investment. You won't regret it. —Bruce Grossman