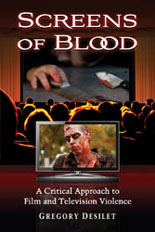 In his introduction to SCREENS OF BLOOD, the Colorado-based Gregory Desilet writes that his book-length examination of violence of screens both silver and small does not approach the subject as harmful or harmless. That would be a most welcome perspective if it were true, but time and time again, the author appears to err on the politically correct side of harmful.
After all, according to him, watching crime shows on TV is bad for you — and not only for your health, but that of your community at large: "Fans of the DEXTER series … must weigh what viewing does for them against what it does to them." Who wrote this, James Dobson?
It's not that Desilet never raises any valid points. He does, such as when questioning why Jodie Foster would involve herself in Neil Jordan's 2007 vigilante thriller THE BRAVE ONE when she has tried for decades to distance herself from the John Hinckley situation, but those points are overshadowed by so many more ridiculous ones.
Topping the aforementioned DEXTER comment are his takedowns of BREAKING BAD for training future criminals and 24 for breeding potential terrorists. These taint the book as a knee-jerk screed instead of the unbiased, intelligent discussion it could have been and presents itself to be.
He takes Quentin Tarantino to task for DJANGO UNCHAINED, but in a move of juvenilia for an academic work, imagines the filmmaker's thought process for the epic's amount of bloodshed. Your honor, I move that Exhibit A be found inadmissible for reasons of inanity.
Desilet further discredits himself simply by exposing poor taste in general. Even die-hard Martin Scorsese fans will admit that SHUTTER ISLAND is far from "one of [his] best films." The author seems less concerned with the violence in the 2010 Denzel Washington vehicle THE BOOK OF ELI than trying to convince us that the much-derided post-apocalyptic movie is great. In praising HBO's THE SOPRANOS, which is perfectly understandable, he goes out of his way to let us know how 1967's groundbreaking BONNIE AND CLYDE "fails," which is not.
I realize that whether a film is considered "good" or "bad" is not the point of SCREENS OF BLOOD, but in this case, it's impossible to ignore. —Rod Lott