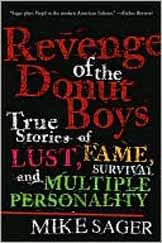 I was a Mike Sager fan before I even realized it. Throughout high school and college, magazines were my drug, and the pages of Esquire, Rolling Stone and GQ were among my major suppliers, particularly when Sager penned a profile of a celebrity, a group or an ordinary Joe.
Thumbing through his 2003 collection SCARY MONSTERS AND SUPER FREAKS: STORIES OF SEX, DRUGS, ROCK 'N' ROLL AND MURDER, I was astounded to learn that all these articles that gripped me the first time around shared the same byline. And now the same goes for that anthology's little brother, REVENGE OF THE DONUT BOYS: TRUE STORIES OF LUST, FAME, SURVIVAL AND MULTIPLE PERSONALITY.
No one in journalism writes like Sager. Try they might – and admittedly, even I have – he has a gift for storytelling that can't quite be duplicated. His non-fiction reads like fiction, finding compelling stories out of the mundane and wringing something interesting out of megawatt stars who normally bore.
Sometimes it happens by accident. Consider the book's opener, "The Multitudes of Roseanne." Written in 2001, it begins as a standard profile of Rosanne Barr/Arnold/Thomas/Whatever, who unsurprisingly shows herself to be demanding, bitchy and belittling. Then she casually drops a bombshell: that she has multiple personality disorder. From there, he's trying to coax her alternate personalities to be interviewed, and when she relents, it's fairly disturbing.
That's an adjective that can be applied to several articles included, particularly "Deviates in Love," a 1992 piece that follows various people who converge to Pensacola, Fla. for a swingers' "fantasy weekend." Sager follows both the old pros and the newcomers who descend into a few days of uninhibited, no-strings-attached sex, where couples swap spouses and others participate in full-on orgies in the hospitality suite. Behind all the fun in fornication, however, they reveal themselves as empty and damaged.
Sadness pervades 1996's "Almost Famous," which profiles two struggling actors in L.A. One day they're employed and seen by millions; the next, they're not and contemplating quitting the biz altogether. One person who has no such problem – yet – is actress/model/Burger King shill Brooke Burke, whom Sager featured in 1999's "The Secret of a Beautiful Woman." She shows herself as every bit the vapid, superficial girl you've always suspected, but how he does it makes it a highlight. (When I met Sager earlier this year in Washington, D.C., he said he has to write celebrity features the way he does because "these people don't say anything" of interest.)
On the other side of the entertainment biz, Sager profiles rapper Ice Cube ("The World According to Amerikkka's Most-Wanted Rapper") in 1990, when he still a gangsta and not a teddy-bear movie star, and hangs with various members of heavy-metal band Slayer in 1992 ("Fact: Five Out of Five Kids Who Kill Love Slayer"). No matter what the subject – volleyball superstars, teenage kids, Marines, Mike Ditka – the article is always insightful, with richly flavored sentences and an eye for incredible detail.
My one beef lies with DONUT BOYS' closer, "Mike Sager by Mike Sager," in which he locates people all across the country with the same name and sees what their lives are like. In early 2005, I started work on a similar article on the Rod Lotts of the world when I opened the pages of Esquire to see Sager already had beaten me to the brilliant idea, dammit.
That said, I'd like to take this opportunity to tell Rod Lott, evangelism coordinator of Poplar Creek Church in Bartlett, Ill., that it wasn't very Christian of you not to return my e-mail. –Rod Lott