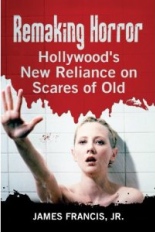 Somewhere before I've stated that I'm not automatically against horror remakes, because without them, we wouldn't have such modern-day classics as John Carpenter's THE THING or David Cronenberg's THE FLY. It's nice to know I'm not alone, now that James Francis Jr. has expanded my thought into an entire book with REMAKING HORROR: HOLLYWOOD'S NEW RELIANCE ON SCARES OF OLD.
It's too bad the trade paperback's cover captures Anne Heche in what appears to mid-salute to the Führer, but Gus Van Sant's infamous, shot-for-shot redux of PSYCHO is one of four main examples the author explores. The others are, naturally, HALLOWEEN, FRIDAY THE 13TH and A NIGHTMARE ON ELM STREET.
In doing so, Francis devotes a chapter to each to explain the differences between the original and the remake, and what worked and what didn't — mostly according to general consensus, although he freely offers his opinions, which prove more lenient than the average academic.
The real meat of the book is the chapter immediately following, in which he takes the same approach, but shorter, to roughly two dozen more examples, from all the ISLAND OF DR. MOREAU movies to 2011′s FRIGHT NIGHT. Consider it the "lightning round" — a lot of fun.
Following are brief Q-and-As with six "industry professionals," including EVIL DEAD star Bruce Campbell and former FANGORIA editor Tony Timpone, but the questions are staid and untailored to the subject, leading to mostly curt responses that lend no insight. Skip these and proceed to the "Remake Catalog," a comprehensive table comparing budgets and grosses (pun not intended).
Francis makes his share of questionable blanket assumptions ("When people hear the name Michael Bay, they are interested to see what he has made …"), dubious statements ("[Rebecca] De Mornay — as fans may remember — came to fame … in the suspense-thriller THE HAND THAT ROCKS THE CRADLE …") and outright errors (he's under the impression that the 1973 telepic DON'T BE AFRAID OF THE DARK is a foreign film) sprinkled throughout the text, but not enough to kill the overall buzz. —Rod Lott