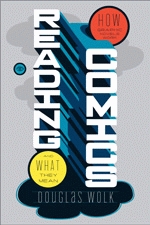 Whether you're already forehead-deep into the graphic storytelling world or an uninformed newbie looking for an entry point, critic Douglas Wolk makes a great case for comics in READING COMICS: HOW GRAPHIC NOVELS WORK AND WHAT THEY MEAN.
Although lots of single-issues series are discussed, a majority of the works Wolk discusses and dissects are of the graphic novel format (or at least paperbound collections of previously published singles). From all the evidence he's seen, he proclaims that the true "golden age" of comics isn't its days of infancy, but right now.
The book opens with a summary of the entire industry from birth on up; in that mere 25 pages, he masterfully pinpoints their growth with the times and enduring appeal. He also acknowledges that for every great comic, there are many more that suck.
This is no secret, but it's nice to see someone who truly loves the medium have the balls to state the obvious in such a public forum. To this end, Wolk also decries the current trend in superhero comics of basking in their own worlds, arguing that it makes it near-impossible to get new readers invested. If you're not already part of the world, good luck. Furthermore, he deems comic-book stores as generally unfriendly places to visit for this very reason, and he's right.
Chapter-length commentaries on individual creators comprise the bulk of the book, from elder statesmen like Spider-Man's Steve Ditko and The Spirit's Will Eisner to revolutionaries like Frank Miller and Alan Moore, who respective reboots of Batman and Swamp Thing still hold earth-shaking resonance today.
What's great is that Wolk tells it like it is, unafraid to speak fanboy sacrilege. It'd be one thing if he were trashing just to trash, but he actually makes a point. Consider: "Ditko's artwork is often crude and unpretty, on its surface: understated and flat, full of crabbed, ugly characters. It's also impossible to shake. In his '60s prime, he was a master of composition, body language, and storytelling flow, and his best ideas have become part of the visual language of comics."
Charles Burns, Chris Ware, Art Spiegelman, Grant Morrison, James Kochalka, the Hernandez brothers are among other writers and/or artists who merit chapter-length looks. And he doesn't just sing their praises, either; refreshingly, he calls them out for missteps and outright failures as well.
But among these, only one title gets its own chapter, and it's not what you'd expect: Marvel Comics' '70s horror flagship TOMB OF DRACULA. And with Wolk's dead-on perspective, it all makes perfect sense why. No arguments here.
More than 100 illustrations pop up here and there to supplement his opinions and observations, but sadly not for all of them. In the cases where I was unfamiliar with the title or artist he was analyzing, it was difficult to come away with a full grasp without seeing it for myself.
This, however, is a minor infraction among a major work in comics criticism. It's thorough and intelligent enough to serve as a college-class textbook on the subject, but far too fun – witness the seven-page bullet-pointed list of random things he loves about comics. It'll make you feel the same. –Rod Lott