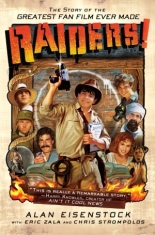 I can't remember the first time I heard of the boys who made a shot-for-shot remake of RAIDERS OF THE LOST ARK. I do remember thinking, "Cute, but what's the point? Perhaps there's more to the story."
Turns out, there is … but only technically. With writer Alan Eisenstock, the once-juvenile filmmakers Chris Strompolos and Eric Zala tell their seven-year tale of production in RAIDERS!: THE STORY OF THE GREATEST FAN FILM EVER MADE. While certainly rife with details, it offers little in terms of meaty stuff that inquiring minds outta know.
For example, you'll learn that Chris was a class clown, that Eric met him over the Marvel Comics adaptation, that Chris liked to lip-sync to Frank Zappa's "Valley Girl," that Eric's home eventually was destroyed by Hurricane Katrina, and so on. You may think otherwise, but I don't think they add up to a compelling behind-the-scenes story. That they made a movie in and of itself was not enough for me.
At the end of each chapter — and even sections within those chapters — Eisenstock tries his hardest to squeeze drama out of mundane situations, or create drama where there is none. Dialogue here in particular rings false, with lines carrying the same clichéd cinematic weight of "You ain't seen nothing yet" or "Now that's what I'm talkin' 'bout!"
Telling it from the kids' viewpoint is what sinks it. Overall, the book has the feel of being the literary equivalent of re-enactments on AMERICA'S MOST WANTED. —Rod Lott