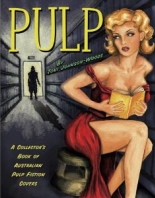 When pulp fiction is discussed, most people focus on the American magazines. But what about the overseas work, of which I know very little? Well, PULP: A COLLECTOR'S BOOK OF AUSTRALIAN PULP FICTION COVERS focuses on the Aussies' output. Toni Johnson-Woods' well-researched book is sort of a primer to that time Down Under, when their own pulp was sold on the cheap and gave Australian writers a chance to make some quick cash.
One of them is A.G. Yates, better known to us as Carter Brown, whose books are still being read today. But Yates can't even compare to G.C. Bleeck, whose output is more than 300 books, but is someone whose work never seemed to make it to our shores.
PULP is split among genres, giving a brief history of each, including some flourished namely Westerns. While genres like horror did not catch on like they did in the U.S., romance, crime, sports, sci-fi and war did. Covers are lovingly reprinted throughout, with detailed information about the stories and artists. It's really a treasure trove of some great work, which all have been indexed into my mind to look out for. I might not find them, but if this as close as I'll get, that's fine.
Covers alone would have been satisfactory, but Johnson-Woods also reprints those great synopses found on the back of these publications. I wish this type of collection could be done for the American pulps. This book makes me more anxious for her next book: a biography of the legendary Carter Brown. —Bruce Grossman