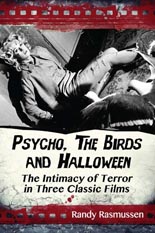 Pop quiz, hotshot: One guess as to which movies form the core of Randy Rasmussen's PSYCHO, THE BIRDS AND HALLOWEEN: THE INTIMACY OF TERROR IN THREE CLASSIC FILMS.
Wait, how'd you guess?
Okay, next question. This one's harder, but not by much: Is the book as simplistic as that initial question?
Answer: Yeah, pretty much.
It's not that everything to be said about those Alfred Hitchcock and John Carpenter classics already has been said — it just depends on what's being said and who's doing the saying. If there can be a 336-page critical study devoted to a four-minute scene from PSYCHO alone — and there is and the Hitch faithful among us should read it — there can be a worthy volume on the entirety of these three horror greats. I'm afraid it's just not this one.
A university library associate by trade, Rasmussen — whose previous books for McFarland & Company analyzed Orson Welles, Stanley Kubrick and horror archetypes — focuses on the relationship triangles in each film, but separately and going scene by scene, seemingly making comment on every line of stage direction.
The problem in that approach is Rasmussen finds hidden meaning in everything, like a first-semester film student patting himself on the back for a newfound ability to Think Deep. It's like the infamous case of critics reading 1968's NIGHT OF THE LIVING DEAD as a statement of America's race relations at the time, whereas its director claims no such thesis was implied or intended.
For example, take this excerpt of the author on PSYCHO's first scene:
"All right," he concedes, spreading his arms in a gesture of defeat. He is not indifferent to her feelings. Marion turns to face him again. Background music returns. The same lethargic, slightly melancholy music heard during the scene's opening pan shot. Neither lover is completely satisfied with their new understanding. Sam gets up from his chair and puts on his shirt. Looking more "respectable" now, he approaches Marion and tells her, with evident sincerity, that he wants to continue seeing her under any circumstances. Marion, amused but deep down not entirely so, turns away from him to resume straightening her clothes in front of the mirror, "You make respectability sound — disrespectful," she observes with a touch of sardonic humor. Yes, he does. Because for him respectability is little more than "hard work." … This dialog occurs with the two characters shown in profile, against the confining backdrop of drawn blinds (more horizontal lines, like the ones in the credits). Contradicting his new commitment to Marion, if only indirectly, Sam turns away from her now and complains bitterly of two other burdens of respectability that have obviously soured him on the whole concept. He is "tired" (like the music) of "sweating for people who aren't there" …
One more example, in which Rasmussen breaks down the scene of Norman Bates complaining about his mother to new motel guest Marion Crane:
Suddenly we see Norman from a new camera angle — a low angle profile in which the predatory stuffed owl and rape painting are visible behind him. … Visually, in two-dimension, his head overlaps with the swooping owl. Is he defying the mother that owl represents to him? Or has he merged with the owl? Become one with it? The paintings depicting rape are mounted below the predatory owl. …
And so it goes, through the whole of PSYCHO, then the same for THE BIRDS and finally, mercifully, HALLOWEEN. The pages are occasionally supplemented with a welcome still, but more often rife with incomplete sentences on purpose. The effect is numbing, like watching a DVD with someone who not only voices everything onscreen, but shares his unsolicited opinion as well. I wouldn't even accept an A-to-Z plot summary-cum-supposition from an Andrew Sarris. —Rod Lott