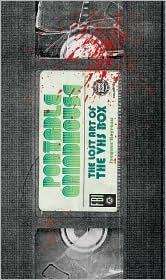 My review copy of PORTABLE GRINDHOUSE: THE LOST ART OF THE VHS BOX arrived from Fantagraphics with a first: a Post-it Note apology from the publicist that the book was a little beat-up. Instead of being bummed at the tape on the spine, I found it oddly appropriate.
See, during college in the early '90s, I served a two-year stint at Blockbuster Video, where part of my daily routine entailed straightening all the boxes on the shelves, as well as returning the ones that customers were too lazy and/or stupid to put back in the right place. All this handling meant the VHS covers never stayed crisp for long. Spines broke, corners crushed — as I see it, that was all part of the video store's allure.
Jacques Boyreau's book pays tribute to that imperfection. Not only is its cover — well, the cover of the book's slipcase, at least, designed to look like a videocassette — but the photos inside showcase boxes in far from mint condition, sometimes even bearing store-specific bar codes, color-coded category stickers and even Blockbuster's signature "Pre-Viewed" price tags. All of this helped take me back to my VHS days, but it's mostly the garish art that did it — lurid snatches of visual salesmanship, many of which have been burned in the back of my mind for 25 years.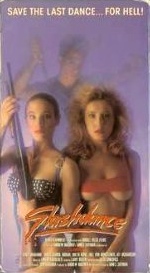 Paragon, Media, Academy, Vidmark, IVE, Charter, Goodtimes, Video Treasures — ah, how I miss the days of such labels, which equated to a reliable stamp of B-movie viewing. They're all here — as are the bigwigs of Paramount, MCA and the like —  with each two-page spread showcasing one example of a video box, back side first, front side second.
Remember the gory promises of THE TOOLBOX MURDERS? The EC Comics-style illustration for 7 DOORS OF DEATH? The big-haired, big-breasted models of SLASHDANCE? The skanky come-on of GATOR BAIT? The Jack Davis art of HOG WILD? The poorly drawn images of, well, too many movies to count? Even Elvira's there with one of her hosted ThrillerVideo releases, but, alas, where's the SYBIL DANNING'S ADVENTURE VIDEO line?
Despite the book's title, among the dozens of entries include a few questionables, i.e. a Barbie cartoon, Johnny Bench's baseball highlights, an instructional tape on bowhunting, a kids' safety video starring Gary Coleman, a Norman Schwarzkopf documentary and a Jerry Lewis comedy. And, hey, what's a class act like NETWORK doing in a book like this?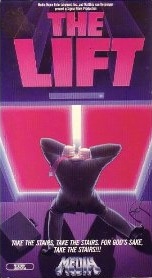 Although these don't scream GRINDHOUSE, they do accurately depict a time when consumer demand was so voluminous that anything — and I do mean anything — would get a nationwide release. How else to account for the thriller MASTER BLASTER, then keying off the paintball fad?
But Boyreau knows his trash (check out his awesome exploitation movie poster book, TRASH, from 2002), so the majority of the contents represents the dregs of the rental market, where you and I were conned willingly by outrageous art and even more outrageous taglines, like SLAUGHTERHOUSE's "Buddy has an axe to grind. A big axe." (None beat that of the killer-elevator flick THE LIFT, however: "Take the stairs, take the stairs, for God's sake, take the stairs!!!")
If you own only one art book featuring a back-cover illustration of Don "The Dragon" Wilson, make it this one. And be sure to rewind, or I'll have to charge a dollar to your account. —Rod Lott