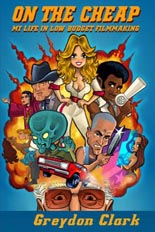 Early in last year's Alfred Hitchcock biopic (HITCHCOCK, natch), a reporter asks the master of suspense, "You've directed 46 motion pictures. You're the most famous director in the history of the medium. But you're 60 years old. Shouldn't you just quit while you're ahead?"
Greydon Clark had nothing to do with HITCHCOCK, but I was reminded of that scene throughout his autobiography, ON THE CHEAP: MY LIFE IN LOW BUDGET FILMMAKING, because it's rife with that kind of quick-draw, big-picture exposition.
The reason? Clark chose to write ON THE CHEAP in the format of a screenplay. That means rat-a-tat-tat dialogue and lightning-fast transitions — in other words, the kind of efficient storytelling the writer/director has near perfected in a career of B movies. Those attuned to the unique rhythms and pleasures of such films as SATAN'S CHEERLEADERS, BLACK SHAMPOO and WITHOUT WARNING will get it. All others have a lot of catching up to do — don't worry, it won't hurt. Much.
The speed doesn't mean readers will be short-shrifted. At almost 300 pages, the paperback takes us through Clark's work chronologically, film by film. No time is wasted on his childhood and upbringing, because he knows no one cares about that. They want to know behind-the-scenes stories on movies, dammit! And throw in some tits while you're at it, why don't ya?
Clark delivers by jumping right in, starting with working for Al Adamson. The author holds little love for the schlock titan, but it yields the first of ON THE CHEAP's great stories, from the set of 1970′s HELL'S BLOODY DEVILS, when Clark was ordered to convince a cameoing Col. Sanders (of Kentucky Fried Chicken fame) to say a line he refused to say: "Ain't that chicken finger-lickin' good."
There are dozens more irresistible anecdotes, from Martin Landau backing out of the horror spoof WACKO because of a lack of humor to how Robert Englund accidentally got cast as a man and a woman in 1992′s DANCE MACABRE, a Russian ballet thriller (!) backed by Menahem Golan, formerly one-half of Cannon Films. In fact, Golan's craziness leads to the book's funniest part: the entire chapter on THE FORBIDDEN DANCE, one of three movies rushing to be first to cash in on the short-lived Lambada dance craze.
Clark's own humor stops when it comes to two of his movies being featured on MYSTERY SCIENCE THEATER 3000: ANGELS' BRIGADE and FINAL JUSTICE; that he doesn't like that scenes were cut suggests he doesn't quite get what the show is all about. Still, I came away from ON THE CHEAP with a great deal of respect for Clark, both for mortgaging his home (more than once) to get his movies made and for being screwed over by shady distributors (also more than once) when he should have earned a windfall. One wishes the industry hadn't changed so wildly as it has, so that Clark could continue the work he's left behind since 1998.
One last note: In typical ballyhoo fashion of the Bs, the back cover's trumpeting of "Over 150 Color Photos" should be taken with a lowering of expectations, as small snapshots are crammed onto collage-style pages. On the other hand, praise be to Eddy Crosby for the incredible, ever-colorful front cover. —Rod Lott
Buy it at Amazon or GreydonClark.com.