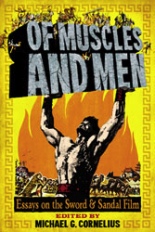 I'd like to report that OF MUSCLES AND MEN: ESSAYS ON THE SWORD & SANDAL FILM is as much fun as it sounds. Instead, like a good chunk of the so-named peplum genre, it can't live up to the hyperbolic art — in this case, not a poster, but a book cover.
Published by McFarland and edited by Michael G. Cornelius, the compilation of a dozen pieces sure seems like a ball. Just glance at some of the titles listed in the table of contents: "Homer's Lies, Brad Pitt's Thighs" and "By Jupiter's Cock!" With rare exception — such as David Simmons' aforementioned "Cock!" piece, which focuses on the campy cable hit SPARTACUS: BLOOD AND SAND — the essays take both their subjects and themselves too seriously.
Are Steve Reeves' starring vehicle of HERCULES and its sequels and imitators really worth dissecting? Or are they merely just B movies with no intent but to entertain? Maria Elena D'Amelio thinks the former, batting about terms like "fascist" and "autochthonous." I highly doubt the filmmakers were thinking about addressing the Marshall Plan or responding to the death of Mussolini — certainly they were just out to shit screenplays that would make a buck. (And, no, I don't have a reference to cite.)
The same goes for The Three Stooges movie in which they MEET HERCULES, which Daniel O'Brien discusses in terms of how the comic team parodies the masculine man, as if that didn't already exist on the surface.
Cornelius may be the biggest offender, reading far too much into children's action figures in "Beefy Guys and Brawny Dolls: He-Man, the Masters of the Universe, and Gay Clone Culture." All kids' dolls are without genitalia, sir; it doesn't mean He-Man can't please She-Ra.
It is tough to take Cornelius seriously from the start since, in his introduction, he makes some startling errors — not typos, but sore-thumb errors — that undermine his authority, from misspelling the name of BEASTMASTER director Don Coscarelli to saying that GLADIATOR won a Best Director Oscar. —Rod Lott