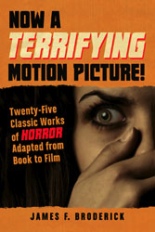 Without the book world, could Hollywood survive? James F. Broderick explores how more than two dozen ideas went to the page and then to the silver screen — specifically, as scary movies — in NOW A TERRIFYING MOTION PICTURE!: TWENTY-FIVE CLASSIC WORKS OF HORROR ADAPTED FROM BOOK TO FILM.
To the author's credit, only one of them falls under the category of "Stephen King" (THE SHINING). Heck, even three of them began life as nonfiction, including a magazine article (THE AMITYVILLE HORROR, THE SERPENT AND THE RAINBOW and DEAD RINGERS, respectively). Not all are books; short stories definitely get their due, too.
Also to the author's credit, the book is not — as I feared it would be — rehashed plot summaries. Broderick delves into both book and film, commenting on their differences as he relays their individual histories, noting what may have been lost along the way. Or, in a few cases, what it gained.
These are thoughtful essays, yet entertaining ones, written like a damn good magazine article with a shot of criticism. His choices are interesting enough that several obvious works didn't make the cut, so we can hold out hope for a sequel. Even die-hard horror fans — myself included — are likely to learn something from it, mostly about the more obscure authors, earning TERRIFYING a more-than-mild recommendation. —Rod Lott