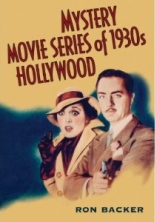 It's almost scary how knowledgeable Ron Backer is on the subject of his new book, MYSTERY MOVIE SERIES OF 1930S HOLLYWOOD. Because whereas most authors might rewatch the 167 films covered, Backer has gone the extra mile by also reading or re-reading the books and short stories on which many of them were based.
Those films are grouped by franchises, which number 22 here. That's right: There were many more series not lucky enough to enjoy the continuing longevity and pop-culture top-of-mind as THE THIN MAN's Nick and Nora Charles, and you'll learn all about them in 400 pages or less. Finally, after decades of confusion, I'm able to tell my Mr. Moto from my Mr. Wong … not to mention all the differing studio takes on Charlie Chan.
Recognizable characters include Perry Mason and Nancy Drew, both with short-lived careers on the big screen; they later found TV to be more friendly turf. Less well-known are Philo Vance, Bulldog Drummond and Brass Bancroft of the Secret Service, the latter likely saved from obscurity since its star was future President Ronald Reagan.
And unless you're as old as the films discussed, it's not likely you've even heard of the likes of Tailspin Tommy or Hildegard Withers — a rare female sleuth.
Regardless of the series, Backer writes about each with equal passion and expertise. His strength is his insistence on delivering an unfailingly honest opinion about each and every movie; despite being a whodunit superfan, he's not afraid to call a turd a turd, and often does. You're get fair recommendations on what to try if a franchise interests you (and, in several cases, thanks to public-domain DVDs, doing so can be accomplished for mere pennies).
Aside from including many still photographs, the book's greatest gift is delivering useful info instead of detailed plot synopses, which Backer himself writes in his introduction would be "excruciatingly boring." That's no mystery! —Rod Lott