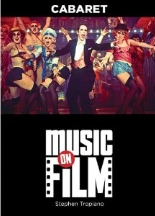 As far as I'm concerned, the 1973 Academy Awards was the setting of what has to be the biggest upset in the event's history. That year, the Oscar for Best Picture went to a film you might have heard of called THE GODFATHER, but instead of awarding the prize for Best Director to Francis Ford Coppola, the Academy's voters instead gave it to Bob Fosse for his work on CABARET.
Can you friggin' believe that? Have you heard anything so completely bug-nuts insane? There's no way THE GODFATHER should have gotten Best Picture!
Okay, so I realize that mine is probably the minority view, but its not for nothing that despite losing out the top prize that year, CABARET totally kicked THE GODFATHER's ass, with Fosse's film taking home eight Oscars (including Best Actress, Best Supporting Actor and Best Cinematography) to Coppola's measly four.
As Stephen Tropiano documents in MUSIC ON FILM: CABARET, his far-too-brief book about the making of Fosse's first cinematic masterpiece (he would go one to make at least one more with ALL THAT JAZZ), the reason for this is simple: THE GODFATHER merely took a disreputable genre and gave it class, while CABARET took a dying genre and completely reinvented it in such a way that it was never really the same again.
In his chapter on CABARET's critical reception, Tropiano points out that a common theme amongst the critics who wrote about it was that it was a musical for people who hated musicals, with some going so far to argue that it wasn't even really a musical at all, despite the number of songs performed. This was because the film represented the first attempt to avoid the fantastic conventions of the genre and instead pursue the kind of verisimilitude previously found most often in European arthouse cinema.
Sure, there had been a musical with an unhappy ending like WEST SIDE STORY, but it still remained an absurd spectacle where supposedly dangerous "thugs" used their switchblades as props they waved around while they danced threateningly at each other. For all its exquisite theatricality, it bore no relation to any observable human experience.
CABARET changed that. By removing all of the songs from John Kander and Fred Ebbs' Broadway production that took place outside of its titular location (a decision Tropiano credits to the film's producer, Cy Feuer), it credibly set the film right in the middle of Weimar Germany, rather than the usual musical fantasyland. And rather than take you out of reality, the songs that remained were used to either serve as ironic counterpoint to what we were seeing or comment on the action in a way mere dialogue would never allow.
For people like me who consider the film to be one of the most important the '70s ever produced, Tropiano's book is a must-buy, even though I suspect it will leave you craving much more. A small paperback of little more than 100 pages, its contents can be absorbed in a single sitting and sticks almost entirely to the facts, avoiding any attempts at personal commentary.
This focus on history rather than criticism makes the book a fun read, and I was happy to pick up some anecdotes and facts I was previously unaware of (my favorite being one where the film's screenwriter, Jay Presson Allen, eased the film's financiers' concerns about the script's references to anti-Semitism by telling them she was half-Jewish herself, only to admit to Feuer after the meeting was over that she had lied because she didn't want to go into the meeting with an "ethnic liability"). That said, I would have loved if the author had spent at least one chapter discussing his own feelings about the film and why he was compelled to write about it.
As is the case of virtually everything I seem to review for this site, this is a book whose appeal is largely restricted to a small selection of the population, including film geeks, Fosse freaks and scholarly gay dudes. If you happen to be a member of this select group of individuals, I highly recommend it, especially since its cover price of $9.99 is significantly less than what you can expect to pay for similar books published by other companies. —Allan Mott