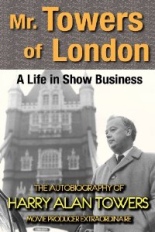 I've bought DVDs before solely because the name Harry Alan Towers was in the credits, so when I heard the legendary movie producer had written an autobiography, that's all I needed to know. Sold!
Towers died four years ago, but MR. TOWERS OF LONDON is a new release from Bear Manor Media. That timeline doesn't matter. What does matter is that readers adjust their expectations as to what the book is and what it is not. In short, it reads more dictated than written — like a long, friendly conversation over Cognac, complete with the occasional Pope joke.
That means although Towers more or less progresses chronologically, he sometimes veers from one thought to an unrelated one, or skips over areas where more information is desired, or makes odd transitions ("Now back to the Music Hall") — all things a ghostwriter certainly would've smoothed over. But his is a life lived to the fullest, and overflowing with stories to share, so fans should be glad he told them at all.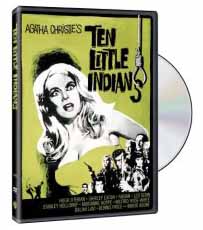 Following a strange prologue that's a history lesson of the British Empire from 1898 on, Towers dishes on his life from childhood to war, radio to TV, and finally, his long career in the movies. Highlights on his filmography include filmed adaptations of Sherlock Holmes, Fu Manchu and works by Agatha Christie (i.e. my favorite, 1965′s TEN LITTLE INDIANS).
Among the more amusing stories are Marilyn Monroe fellating Errol Flynn underneath a breakfast table, a soused Oliver Reed (is that redundant?) showing his tattooed penis to a horrified Robert Vaughn during dinner, and tricking Klaus Kinski into being in Jess Franco's COUNT DRACULA. Kinski was opposed to being a Dracula film, so they lied to him and sent him only his part of the script, without a title. That's classic.
So is a brief working encounter with DEEP THROAT's Linda Lovelace that results in Towers making a great joke. He possessed a dry wit, which pops up when you least expect it, making the lines funnier than they might otherwise be. An example: "Whilst I was in Hungary, the Berlin Wall was erected overnight. Not my fault."
And speaking of things erected, Towers isn't shy about discussing his dalliances with prostitutes. I only wish he had answered the question that will be on all readers' minds: "Wait, wait, what did your wife think about that?" (The book is dedicated to her, actress Maria Rohm.) Guess we'll never know. —Rod Lott