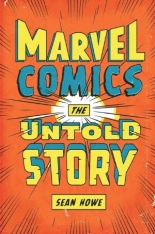 Perhaps MARVEL COMICS: THE UNTOLD STORY is in need of a title change, because author Sean Howe has now told it, and told it damn well. My Spidey sense tells me that some fanboys are ready to pounce on it for not being a puff piece, which makes me like the book all the more.
As a kid of the 1970s, I grew up vacillating between which comic book company I loved more: DC or Marvel? It depended on the week, but I felt like Stan Lee knew me personally through his Bullpen Bulletins — and turns out, that was quite a calculated move on his part. Stan the Man knew exactly what he was doing: building a loyal audience.
Howe has tread the four-color territory before in the 2004 essay collection GIVE OUR REGARDS TO THE ATOMSMASHERS!, but this nonfiction work finds him telling one story — and all by himself — in the start-to-today history of Marvel, warts and all.
One of those warts is also its biggest hero, arguably: Lee himself. The "carnival-barker-as-beatnik" personality worked his way up to the top of Marvel, and more importantly, worked Marvel to the top-of-mind among pop culture, especially among the college crowd of the 1960s. His more realistic take — put "realistic" in quotes, of course — on costumed characters is a large part of that, according to Howe; for example, the debut of the Fantastic Four the same week as work on the Berlin Wall began couldn't have been better timed.
You'll learn — or perhaps you won't, if you're that much into the House of Ideas lore already — that Lee often improvised his scripts. The artists would draw off his rough plot synopses, and Lee would fill in the dialogue after the fact. Hey, to the perspective of readers, it worked.
Lee was a comics trailblazer by actively courting fandom and insisting upon an adherence to "Marvel Universe" continuity … and yet he was also kind of a dick. He'd take swipes at fellow employees in his Bullpen Bulletins, and hog credits. The latter particularly incensed Jack Kirby; Lee's superior-than-thou tendencies drove away top talent like Steve Ditko and Wally Wood.
Of course, not all the contention in Marvel history is the fault of Lee. Cyclical economies and the a-changin' times also are to blame, and Howe details every battle — most of which are more exciting than the fictional ones that took place on the page. And wait until Marvel figures out how to do movies, and creators' rights becomes another touchy subject.
Boasting cameos from everyone from Mario Puzo to Federico Fellini, MARVEL COMICS: THE UNTOLD STORY is a lively slice of American pop history, recommended to any fan of comics or the enduring characters they birthed. —Rod Lott