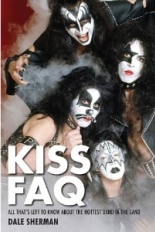 Raise your hand if you're a fan of KISS!
Notice mine isn't up, however. I've never liked their music, and I suspect I never will. Still, I cannot deny the band is interesting on a level of marketing and showmanship, and that's why the non-KISS lover in me found KISS FAQ worth reading.
While author Dale Sherman obviously is a hardcore member of the KISS Army, he's structured his book in a lively way that is friendly to the casual listeners and curious as well. As the FAQ part of the title suggests, it's Internet-influenced, constructed largely as a group of lists. Flipping around is not only encouraged, but expected.
In 400 pages, glam-rock devotees can read about the individual members' other pursuits or Sherman's picks for the best and worst album covers. (While said album art is spread throughout the paperback, it would be nice for them to appear all next to his arguments, for those like me who don't have the images stored in their brain.) He even debunks rumors and examines the projects that never came to fruition.
But for the flick-obsessed me, KISS FAQ earns its painted stars and stripes by devoting an entire chapter to the making of their legendary 1978 TV-movie, KISS MEETS THE PHANTOM OF THE PARK, gloriously detailing each and every misstep.
Also of interest to me were the breakdown of Gene Simmons' filmography (including RUNAWAY and TRICK OR TREAT), the breakdown of Gene Simmons' fuck buddies (too numerous to list, and isn't Shannon Tweed beautiful enough to "settle" for?) and the history of KISS in comics (most of which you can get in the unwieldy KISS KOMPENDIUM, which Sherman takes to task for its stupidly alliterative spelling). —Rod Lott