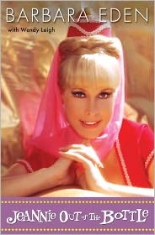 Although I am by no means a stranger to the genre of completely unnecessary autobiographies dedicated to aging actors whose relevance as celebrities ended before I was born, I can't say that I picked up this latest entry out of any enthusiasm for its subject. As much as I love 7 FACES OF DR. LAO, if you were to ask me which gorgeous blond star from a classic '60s sitcom about a magical beauty prone to creating comic situations whilst attempting to help the man she loved owned my heart, I'd say Elizabeth Montgomery without a second's hesitation.
It wasn't out of any interest in Barbara Eden's life and career that compelled me to listen to the audiobook version of JEANNIE OUT OF THE BOTTLE, which is credited to her and (I presume) the actual author of the work, Wendy Leigh, but rather a personal interest in the subject of ghostwriting itself.
I can't explicitly state the reason why I find myself compelled to consume as many ghostwritten books as I can, but I really don't think it's that hard to guess. The thing I find most fascinating about the art of the ghostwriter is that the better you are at it, the less likely you are to receive any credit for your work. The greater your skill at sublimating your voice in favor of your subject's, the more likely your audience is going to assume they wrote the whole thing without any help.
Although I understand the reasons why some ghostwriters receive credit for their work while others do not varies from book to book, I am always wary of those with two names on the cover. Not because it breaks any sort of illusion (does anyone really think Nicole "Snooki" Polizzi is the sole author of A SHORE THING? Especially since this would mean her having written a book without ever actually having read one), but because it seems like an admission of failure — the implication being that the ghostwriter did such a shitty job, there was no way to hide it.
I freely admit that this is a completely unfair prejudice on my part, but then again, books like JEANNIE OUT OF THE BOTTLE do little to convince me otherwise. I listened to the audiobook version instead of reading the traditional text, as that is easily the best way to judge how well the author managed to capture the subject's voice. Done right and it sounds as those the words are coming freely from their own mouth; done wrong and it sounds contrived and awkward.
JEANNIE OUT OF THE BOTTLE does it wrong. Listening to Eden read aloud her own life story, you get the sense that she could easily be describing someone else for all the connection she has to the words she's speaking. This is because rather than writing a personal memoir, Leigh has instead written an impersonal biography using a first-person narrative.
This comes across most in the moments where "Barbara" describes the people she's worked with in the past. Rather than coming across as personal impressions of famous cultural icons, they instead read like robotic listings of the career accomplishments found on their Wikipedia pages.
Leigh tries to disguise this by filling the book with nonlinear digressions, rather than simply telling Eden's story in a straightforward fashion. Instead of just giving us a chapter about what an asshole Larry Hagman was on the set of I DREAM OF JEANNIE, for example, we also have to put up with a chapter at the beginning of the book about how such a chapter is going to appear later on.
It also doesn't help that Leigh and Eden want to have their cake and eat it, too. They insist on being honest, yet at the same time, refuse to do anything that might burn a bridge. Thus, for every Hagman-did-something-shitty story, there's a paragraph about what a talented guy he was and how much Eden respects and likes him today. After a while, you get the sense that if you took out all of the backsliding in the book, it would be half as long.
And it's a shame because Eden does have a potentially interesting story to tell that goes beyond Hollywood stardom and into the subjects of depression (she suffered from it after the miscarriage of her second child), drug abuse (her son was an addict) and personal loss (her son died at the age of 35 as a result of said addiction).
It's only until the very last moments of the book, where Eden admits that she will never completely get over the death of her son, that you feel any sense of her involvement. I can't say how it reads on the page, but in her voice, it's devastating. The emotion is still raw and powerful, and a little more of that feeling and honesty could have saved the book if the effort had been made. —Allan Mott