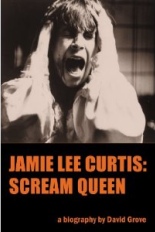 When you hear "scream queen," you think of Jamie Lee Curtis. The girl gets her due in David Grove's biography of her formative horror-film years, from HALLOWEEN to HALLOWEEN II. That may not sound like a stretch, but she shoehorned in four more fright flicks in between: THE FOG, PROM NIGHT, TERROR TRAIN and ROAD GAMES.
After a brief birth-to-career-start introduction, JAMIE LEE CURTIS: SCREAM QUEEN jumps right into her scoring the lead in John Carpenter's HALLOWEEN, which would forever secure her place in film history … yet not lead to any other job offers, despite being a massive hit.
Carpenter came to her rescue with THE FOG, which allowed her to work with her mother, PSYCHO star Janet Leigh, even though — as Grove reveals — Curtis struggled growing up in her famous parents' shadows, wishing very much to have her own identity, even if she painfully uncomfortable with the way she looked. (As anyone who was hitting puberty around the time of TRADING PLACES knows, that's crazy talk!)
Grove delves deep — really deep — into the behind-the-scenes stories of her half-dozen string in horror, even if the likes of Canadian productions PROM NIGHT and TERROR TRAIN, or Australia's ROAD GAMES, don't exactly deserve the treatment. The only reason we talk about them today are because of Curtis.
Details of her personal life are included throughout — boyfriends, Daddy issues, drugs, that nasty hermaphrodite rumor — but not to any great extent. This is, first and foremost, devoted to the woman's films, rather than the woman.
Ms. Curtis' fans — of which Grove certainly is — should enjoy this one, particularly those who've revisited her slasher period again and again. What the author lacks in finesse — the 500-page book could use a heavy edit, primarily in the personal-pronoun department — he makes up for in a thorough, well-researched devotion to his subject. Several pages are photos are included. —Rod Lott