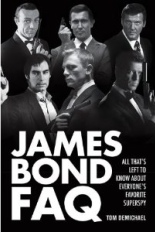 There are many, many, many books available that cover the venerable James Bond film franchise. And now that we have SKYFALL, we have another in Tom DeMichael's JAMES BOND FAQ.
Unlike other entries in Applause Books' FAQ series I've read — ranging from KISS to The Three Stooges — this one does not live up to its subtitle promise of containing ALL THAT'S LEFT TO KNOW. If you're a fan, you've long known most of this content already, and that's thoroughly disappointing. (And if you don't, this is hardly the best place to start.)
All the surprises arguably arrive upfront, with trivia on Bond creator Ian Fleming that's new to me (then again, I haven't sought out any biographical material on him before), including such bits that he suffered from gonorrhea and that the American paperback version of his CASINO ROYALE novel was saddled with the terrible title YOU ASKED FOR IT.
One is left wanting much more of that and a closing chapter that examines the non-canonical screen Bonds. Everything else, unfortunately, is the same examination of each Bond actor, Bond girl, Bond villain, Bond gadget, Bond theme and Bond so on and Bond so forth that the world can recite from memory. DeMichael has nothing new to offer readers beyond his own personal opinions, but fans don't gravitate toward a book like this to read stuff like that. —Rod Lott