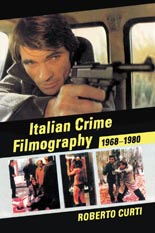 To call Roberto Curti's book an ITALIAN CRIME FILMOGRAPHY is to do it a bit of disservice. Yes, the McFarland & Company trade paperback qualifies as a reference book, but by definition, a "filmography" is merely a list, and this is far more than that.
Across a heavy 332 pages, the Italian film critic Curti covers a lot of Eurocrime ground from the country shaped famously like a boot: 13 years worth, to be exact, from 1968 to 1980. Such movies existed before the earlier date, of course, but the author pinpoints that year as the beginning of the subgenre's peak period, due both to real-life political events and the financial wane of the almighty spaghetti Western.
An introduction addresses the Italian crime pictures before '68 at the book's opening and then the ones after '80 near the book's end. These bookends provide nice context and closure, but it's the meat between that really matters.
Here, going year by year — and then alphabetically within those — Curti runs through a good 220 or so films. A cursory plot summary merits a mercifully brief paragraph before a full piece that doubles as essay and review, and this is why "filmography" doesn't cut it. Curti offers incredible insight and credible criticism throughout, and reading his book is like gaining additional perspective on the titles you've seen and compiling recommendations on those you haven't … yet.
Per McFarland's usual treatment of film books, poster art and still photos are hardly in short supply. Bravo! —Rod Lott