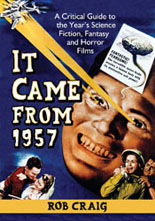 It's not as if 1957 was a banner year for genre movies, but that hasn't stopped Rob Craig from dedicating an entire book to the 57 such flicks that invaded theaters over those 12 months — 11, really, as January stood barren. The result is IT CAME FROM 1957: A CRITICAL GUIDE TO THE YEAR'S SCIENCE FICTION, FANTASY AND HORROR FILMS, a McFarland & Company release in trade paperback.
Craig takes a chronological tour down memory lane, reviewing such B-level works as TOBOR THE GREAT, THE BLACK SCORPION and THE BRAIN FROM PLANET AROUS, whose poster imagery provides the cover art. On a rare occasion, there's even a bona fide classic, with arguably none greater than THE INCREDIBLE SHRINKING MAN or THE THING FROM ANOTHER WORLD.
With a modicum of plot info (thank goodness), each entry is concentrated on actual criticism and insight. That would be enough as is, but until it reaches page 50, the book spends time putting the reader in the historical perspective, so one can see how the times shaped the entertainment. In this case, the Atomic Age was in full force, with TV threatening theaters and women eager to shed their "baby factory" labels.
Some readers have taken umbrage at this initial section and casting the light of politics at the silver screen, viewing the exercise as "lefty infused nonsense," as one put it. I didn't get that. Craig may overanalyze a film or appear inconsistent in his praise and brickbats, but the book is — as labeled — "a critical guide." In other words, the viewpoint is his and his alone; just because you don't agree with it doesn't make it wrong (or vice versa). If reading reviews isn't your thing, this isn't your book. I do, and while the author is far from a Roger Ebert, his approach remains entertaining enough for your time, provided you're really into this era of sci-fi.
I like the concept of devoting a book to one year of film; it would be neat to see Craig continue the concept. But really, if you were to read only one 2013 cult-movie book by the man, I'd suggest GUTTER AUTEUR: THE FILMS OF ANDY MILLIGAN over this one. —Rod Lott