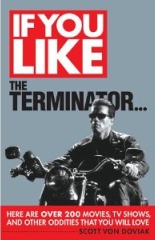 If you like piña coladas and getting caught in the rain, Austin-based critic Scott Von Dolviak can't help you. But if you like the film THE TERMINATOR, boy, oh boy, are you in luck! The HICK FLICKS writer's latest entertainment title just happens to be IF YOU LIKE THE TERMINATOR … HERE ARE OVER 200 MOVIES, TV SHOWS, AND OTHER ODDITIES THAT YOU WILL LOVE.
Such an exercise could be tiresome, like a lazy list of his personal favorite science-fiction films and series. Luckily, it's not. The tidy paperback is structured with thought and care behind it, reading not like a top-of-the-toilet-tank time-passer, but a collection of thorough and incisive essays on several subjects.
For example, the book begins with a chapter on those pieces of media that influenced James Cameron's 1984 film and made its star, Arnold Schwarzenegger, an unlikely household name. Conversely, it closes with a look at those pieces of media that may not exist without THE TERMINATOR's own massive influence.
Other sections of the book delve into the individual careers of Cameron and Schwarzenegger, while others probe worthy players in some of TERMINATOR's key themes, including time travel, robots and cyborgs, and post-apocalyptic scenarios.
Another chapter looks at the '60s anthology series THE OUTER LIMITS, for reasons that would result in a court battle for Cameron after TERMINATOR hit big, while yet another springs through TERMINATOR's own sequels and spin-offs.
Throughout the journey, readers may accumulate recommendations on what to watch next. Because older fans are more likely to have already seen much of what Von Doviak touts (calling them "oddities" is really stretching it), his book seems geared more toward younger readers — sadly, the generation least likely to read at all.
I fall into that former category, and yet, IF YOU LIKE THE TERMINATOR … remained a blast to consume. Von Doviak is a real writer — not some asshat whose credentials amount to a blogspot page and having a shelf of models and figurines. The Limelight Editions paperback is expertly designed, and makes me look forward to other potential entries in the pop-culture series; ones on THE SOPRANOS, The Beatles, Monty Python and Metallica already exist. —Rod Lott