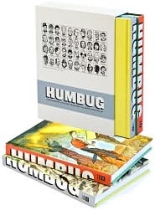 After Harvey Kurtzman left MAD, Hugh Hefner gave him TRUMP, only to fold it after two issues. But Hef being Hef, he let Kurtzman still use the office space, where Kurtzman and his stable of artists launched their next great humor magazine in HUMBUG in 1957. You remember HUMBUG, right? Right?
MAD keeps marching along, but HUMBUG died a quick death, ceasing publication after 11 issues. It's one of those periodicals MAD fans too young the first time around have heard about for years, but have never seen. Fantagraphics rights that wrong with the complete HUMBUG, a two-box hardcover set in a slipcase.
At first glance, HUMBUG's black-and-white-with-occasional-spot-color pages look like MAD, with the manic art of Jack Davis, Will Elder and Al Jaffee. It's not until you read it that things appear a tad different. Kurtzman and company aimed high for a more sophisticated humor mag than the competition; sometimes that results in the joke getting lost, or the concept being stronger than the actual execution. (There's a reason MAD avoided prose pieces.)
Movie and TV parodies — a MAD staple from the start — are here, but in comparatively short supply among all the "how-to" and "a look at"-type features. You do get good spoofs on BABY DOLL and AROUND THE WORLD IN 80 DAYS, with the latter a standout in the department of absurdity, and game shows on the tube.
Unfortunately, for whatever reason, HUMBUG today is a victim of timeliness. Although its art still holds great appeal, its wit is weathered and sadly dated. Still, Fantagraphics' package for it is bar none — handsome, sturdy and restored with great care. Sticking to the term "complete," the set contain all the covers, contents pages, letter columns and even house ads. I was most interested in the behind-the-scenes story of HUMBUG and the creative process that went into it — not to mention doomed it — and the book's introduction and exclusive interviews more than satisfy on that count. —Rod Lott