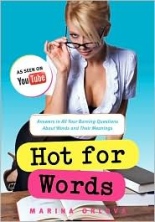 If intelligence is sexy, I wish someone would've told all those girls with whom I attended high school. Marina Orlova claims smarts equal sex appeal, but then, she looks like Marina Orlova. She's the author of HOT FOR WORDS: ANSWERS TO ALL YOUR BURNING QUESTIONS ABOUT WORDS AND THEIR MEANINGS, which no one would be publishing if she were ugly.
The book does exactly what it promises: diving into the origins of words and phrases. But never before have roots been so seemingly raunchy, as each page is accompanied by a slick, full-color photo of Orlova in fantasy-ready poses, from schoolgirl uniforms and bikinis to lingerie and eating a banana.
"Birds and the bees"? That's probably due to Cole Porter. "His name is mud"? One of John Wilkes Booth's conspirators. The ampersand? It combines the two Roman letters for "and." "Horny"? Because an engorged male organ looks like a horn. You'll learn all these facts and more, including the nugget of trivia that "fuck" appeared in no English dictionary until 1965.
I suspect HOT FOR WORDS will be looked at more than read. Hey, whatever gets young males to put a book in their hands — or hand, singular — is fine by me. —Rod Lott