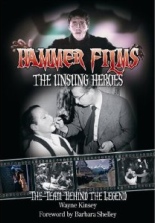 I dislike using the term, but it's the only one here that is accurate: insane. Wayne Kinsey's fourth volume of Hammer Studios lore, HAMMER FILMS: THE UNSUNG HEROES, contains an insane amount of detail and information about the famed British production company.
And when I say "insane," I don't say it in a frivolous manner. I mean that this book veers toward the pathologically obsessive in its attention to detail. I mean that the book not only covers the directors, producers and writers behind Hammer's memorable (and occasionally not-so-memorable) library of films in a comprehensive and illuminating way, it also covers the carpenters, set dressers, boom operators, script girls, stuntmen and even some extras.
You might think this is a bad thing, but you'd be wrong. Kinsey is not only a fine writer, he is also an exceptionally gifted editor. Drawing material from hundreds of interviews with key Hammer figures (as well as many peripherals), he weaves all this information into succinct, illuminating essays on the people behind the scenes. Some of the names are familiar and, despite the title of the book, hardly unsung (directors Terence Fisher and Freddie Francis, stop-motion guru Ray Harryhausen or composer James Bernard, for example).
Page after page, however, you encounter names that never made it up on the silver screen and yet whose work we have enjoyed for over half a century. Whether or not you're interested in these people, their stories contribute to a peculiarly brilliant oral history of the studio.
A large trade paperback printed on glossy paper and chock full of more than 1,000 illustrations comprised of photographs, production art, maps, music notes, blueprints and storyboards, this is a beautifully produced brick that any fan of Hammer films should own. It will also be of significant interest to anyone curious about film production in general.
Some of the backlot photographs are fantastic, such as Oliver Reed
resting on a chaise longue or Christopher Lee using the catering
services while wearing his Frankenstein's monster makeup. There are conceptual drawings for Reed's monster makeup in CURSE OF THE WEREWOLF, as well as elaborate blueprints for Hammer's famous studio sets.
The book is surprisingly intimate for what could honestly be called an encyclopedia, and it's a testament to the author's abilities as a writer and editor that it is as eminently readable as it is. If there is a criticism to be made, the lack of an index does make it harder to find information on specific films, although given the massive amount of detail included, I realize it likely would have added another 50 pages.
At 500 pages already, it's easy to be overwhelmed by this thick tome, but it's impossible to be unimpressed. While it may take me a year to page through the volume in its entirety, it will last on my shelf for decades given its useful and insightful contents. I should also note that Tomahawk titles tend to sell out quickly, so I highly recommend you pick it up swiftly if you have any interest in the subject matter. —JT Lindroos