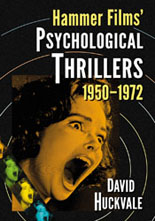 With HAMMER FILMS' PSYCHOLOGICAL THRILLERS, you know David Huckvale has done his job when I fill up my Amazon Wish List with titles I don't yet own and move those that I do and haven't seen — several found on THE ICONS OF SUSPENSE COLLECTION — to the top of my DVD viewing pile.
When people think of Hammer, they think "horror"; some misinformed fans don't even realize the legendary UK studio made anything but fright films. Thrillers, it did even better — at least that's my purely subjective view, but Huckvale would seem to agree, calling them "more than catchpenny essays in suspense."
His book examines all 17 of them — the psych-focused ones, anyway, and then only those falling between the golden years of 1950 and 1972. (Sorry, Hilary Swank and THE RESIDENT!) But first, he lays the groundwork by discussing the classics that informed Hammer's approach to the genre: Henri-Georges Clouzot's DIABOLIQUE and four from Alfred Hitchcock. That said, when it comes to one of the former's famous twists, Huckvale contends that "Hammer got there first," with 1950's THE MAN IN BLACK.
Barely a chapter goes by — one, literally — without mentioning cribs from Hitchcock, whether birds and baths, mirrors or mothers. Huckvale reserves perhaps his highest praise for what arguably looks the most overtly Hitchcockian of them all: 1963's MANIAC.
From start to finish, the author delivers smart, insightful readings, comparing the films to one another, analyzing them in relation from Shakespeare to Sigmund Freud, yet remains standing on the opposite side of dullsville. There is more merit and credibility on any given page than in the whole of Randy Rasmussen's PSYCHO, THE BIRDS AND HALLOWEEN: THE INTIMACY OF TERROR IN THREE CLASSIC FILMS, a fellow new release from McFarland & Company.
Huckvale may veer often, but he always has a point, and he is as comfortable teasing the prospect of Cary Grant playing the Phantom of the Opera as he is at referencing Kierkegaard. —Rod Lott