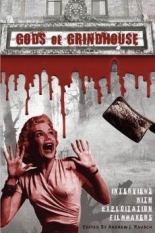 Understandably, Andrew J. Rausch just can't seem to pull himself away from Herschell Gordon Lewis. Having co-authored a book with Lewis last year in the heartily recommended THE GODFATHER OF GORE SPEAKS, Rausch wrangles Lewis once more as a participant in GODS OF GRINDHOUSE, a collection of interviews with 16 notable filmmakers, almost all known best for their work as directors.
I'll state my one caveat right upfront since it's right there in the alliterative title: While synonymous, the term "grindhouse" is not always interchangeable with "cult movies." That quibble aside, I had an absolute blast with this book from Bear Manor Media. I read it in one sitting, in roughly the time it takes it watch any given one of the guys' most memorable flicks.
Although all 16 interviews adhere to the Q-and-A format, not all of the Qs stem from Rausch's mind. He interviews Lewis, NIGHT OF THE LIVING DEAD co-creator John A. Russo and multihyphenates Roger Corman and Larry Cohen; the rest of the talks come from a dozen others. Lengths vary and all but two have been published elsewhere previously. That turned out not to be a problem, as I had read only one previously: Mike White's conversation with WACKO's Greydon Clark.
Kicking off GODS, Brian Layne speaks with Full Moon Pictures emperor Charles Band, which is nice to see because one rarely, if ever, finds Band in these sorts of things. Among the rest of the paperback's contents, certain pieces stand out, including:
• Frank Henenlotter bemoaning his own job on BASKET CASE 3: THE PROGENY;
• Bill Rebane detailing how he started shooting THE GIANT SPIDER INVASION without the benefit of, y'know, money;
• and Ray Dennis Steckler decrying MYSTERY SCIENCE THEATER 3000's episode of his INCREDIBLY STRANGE CREATURES WHO STOPPED LIVING AND BECAME MIXED-UP ZOMBIES as "just disgusting" and "anti-Semitic" (!).
Also grilled about their careers — although not always in full — are David F. Friedman, Jack Hill, Lloyd Kaufman, William Lustig, Russ Meyer, Ted V. Mikels (of course he's pictured with that god-awful boar's-tooth necklace) and, the odd man out of the group, Alejandro Jodorowsky. Posters and photos pepper the pages.
After reading GODS OF GRINDHOUSE, you may find yourself filling your free time with viewings of some of the films mentioned. This should be listed on the back cover as a possible side effect. —Rod Lott
Buy it at Amazon or Bear Manor Media.