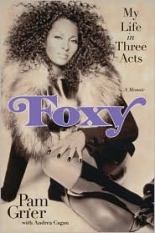 Here's the thing everyone should know about Pam Grier's autobiography, FOXY: MY LIFE IN THREE ACTS: It wasn't written by a Pam Grier fan.
If it had been written by someone who was as obsessed with Grier's film career as much as any other responsible B-movie buff, there would be whole long chapters about the making of COFFY, FOXY BROWN and SHEBA, BABY. There'd be anecdotes about working with William Marshall on the set of SCREAM BLACULA SCREAM, Jim Backus on FRIDAY FOSTER, and what it must have felt like co-starring as a slave in the studio-made DRUM, just a few years after playing such strong female lead characters in lower budgeted non-studio films.
But this book wasn't written by a Pam Grier fan. It was written (with the help of Andrea Cagan) by Grier herself, so you have to temper your B-movie-buff expectations and instead go into it knowing that you are about to read the story of a strong, dynamic woman who has led a fascinating life, and who doesn't give a fuck about the classic movies she made in the '70s. At least not the same way you do.
Fortunately for her readers (if not for herself), Grier has led a compelling, dramatic life that would be just as worthy of writing about if her name was Pam Smith and she had never even heard of Roger Corman or Jack Hill. So it's no wonder she'd rather focus on the personal events and relationships that have helped define who she is as a person, rather than an icon.
Still, I cannot help but assume that most fans of such an iconic performer will come away disappointed. One of the great bummers of being a fan is that very often we know and appreciate more about the history of our enthusiasm to a far larger degree than those who actually participate in it. Athletes often know nothing about the teams they get paid millions of dollars to play for, musicians with hit records might stare at you blankly after you make a Beatles reference in their presence, and film legends like Grier cannot even be counted on accurately keeping track when different films were made and released, even when finding out is merely a matter of checking out the IMDb.
For example, in the chapter where she discusses her troubled relationship with her GREASED LIGHTNING co-star Richard Pryor, she writes that when they were together, he was riding high on the success of 1980's STIR CRAZY. But then, a page later, she talks about coming home to his house from the set of 1976's DRUM. One easily assumes she actually meant SILVER STREAK when mentioning his breakout hit, since it fits the timeline she provides, but it's the kind of careless, easily caught and corrected mistake that defines her overall indifference to the enormous part of her life the majority of the book's audience are actually interested in.
That said, this same part of FOXY also happens to feature a story about the time a pack of dogs attacked Pryor's beloved pet horse, Ginger, compelling Grier to load the wounded 400-pound animal into the back of her Jaguar and race to the closest veterinarian, while a line-up of cars formed behind her as other motorists followed to find out why exactly Pryor was weeping in the passenger side of a sports car with a small horse stuffed in the back.
So, yeah, FOXY is a book filled with some great stories about a fascinating woman who has led a tumultuous life, but it's also one where her relationship with CHICO AND THE MAN's Freddie Prinze gets far more page time than JACKIE BROWN, making it a Pam Grier book seemingly written for people who have never actually seen a Pam Grier movie, which is certainly a wide audience, but maybe not quite the right one to go for. —Allan Mott