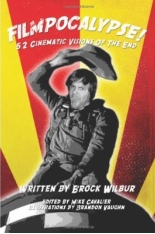 I know Brock Wilbur intended FILMPOCALYPSE!: 52 CINEMATIC VISIONS OF THE END to be read before that whole Mayan day of doom of Dec. 21, 2012, approached, but to hell with that; I didn't know the book existed until a few weeks ago. The tinfoil brigade of fear once again was proven wrong; the world's still spinning on its axis as usual; we're still here; and FILMPOCALYPSE! is still worth reading, no matter to which page your calendar is turned.
As an online project "in glorious celebration of our inevitable demise," Wilbur watched and then reviewed one apocalyptic and/or post-apocalyptic movie every week, and this paperback rounds up the results. Because he is a stand-up comedian by trade, you can expect the book to be funny. But it's also quite thoughtful and unafraid to address some Big Issues; this is legit film criticism that just happens to contain some killer jokes.
While his queue traverses nearly 100 years of cinema history, it also hops, skips and jumps among genres. Further livening up the action is that some chapters employ gimmicks. For example, in keeping with the loss-of-sight subject of Fernando Meirelles' 2008 sci-fi drama, BLINDNESS, Wilbur ran it twice — the first time experiencing it only as audio while he sat in a dark room. For one of Roger Corman's rare bombs, 1970's GAS-S-S-S, he live-blogs his mind-blowing experience — and it is an experience: "Nothing like thirty minutes of 'silly rape' to alter your perceptions of a cartoonish film."
Most are straight-ahead reviews, however, and that's A-OK, because they're filled with such hysterical observations as:
• "I'm not saying it's a bad thing when John Leguizamo is the strongest actor in a film, but I'm also saying exactly that." (VANISHING ON 7TH STREET)
• "SOUTHLAND TALES is what all entertainment will look like ten years from now, and what most VH1 programming looks like today."
• "Who looks at [Jackie Earle] Haley, even as a kid, and thinks that's not exactly what a serial killer looks like? Sure, let him guard the woman. That won't end in rape." (DAMNATION ALLEY)
• "Can [M. Night Shyamalan] do anything without trying to show off? I'm surprised I can read his IMDb page without a cryptix." (THE HAPPENING)
• "Is there a subset of viewers who were crying out for a Willem Dafoe porno? Identify yourselves!" (4:44: LAST DAY ON EARTH)
The chapters are most enjoyable when you've seen the movies discussed, not only because Wilbur goes into detail for Acts 1 through 3, but because you possess an understanding that allows you to laugh along knowingly. Trust me: You don't know how dead-on he is in his wholly deserved takedown of THE DARKEST HOUR unless you, too, have suffered through the stupidity of that one about the invisible monsters that our "heroes" keep craning their necks to try and see.
It could use a tighter edit, but the illustrations by Brandon Vaughn are of a higher caliber than one usually sees in a DIY project. As I would have with our world, I was sorry to see FILMPOCALYPSE! meet its end. —Rod Lott