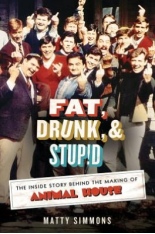 Between consuming DVD extras, reading three decades of magazine articles and having read Matty Simmons' 1994 NATIONAL LAMPOON bio, IF YOU DON'T BUY THIS BOOK, WE'LL KILL THIS DOG, I'm not sure I learned anything new from the movie producer's new book, FAT, DRUNK, AND STUPID: THE INSIDE STORY BEHIND THE MAKING OF ANIMAL HOUSE, but I enjoyed it all the same.
Released in 1978, NATIONAL LAMPOON'S ANIMAL HOUSE was an instant hit and remains a comedy classic. There's no disputing that, but Simmons seems intent on needing to the talk the reader into it, with ongoing references to how everyone loves to quote it, how the song "Shout" is still so awesome, how John Belushi is so funny in the flick, and so on.
Luckily, most of the book is just Simmons telling the story of how the movie came to be: how it was inspired by real-life frat shenanigans; how Universal Pictures treated it like a redheaded stepchild until the grosses came in; how they had trouble finding an actual college campus to shoot on; how the cast members were found; how collaborative the film was between its screenwriters, actors and director John Landis; how the resulting TV series, DELTA HOUSE, failed; how attempts at sequels over the years have never gotten off the ground, etc.
As someone who enjoys behind-the-stories of motion pictures — especially iconic ones I actually like — this is all interesting stuff, even if much of it reads like information I already had picked up from here and there. Having it from one source, however, is a plus. But FAT, DRUNK, AND STUPID is not — repeat, not — an "outrageous" story as the jacket copy claims. Simmons insinuates hook-ups and such, without delving into dishy details.
What he does offer is a breezy, conversational read. Now he really needs to do the same for the NATIONAL LAMPOON'S VACATION franchise, if in part just to put Chevy Chase's diva behavior on permanent record. But this time, if Simmons mentions Dan Aykroyd's name, he needs to not misspell it on all six pages the actor is mentioned. —Rod Lott