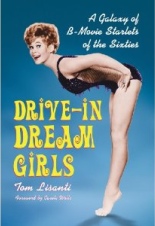 There are many things I love about Tom Lisanti's DRIVE-IN DREAM GIRLS, a babe-by-babe survey of some of 1960s cinema's sexiest screen starlets, but one that makes it the wheat among similar chaff is how candid its subjects are.
Of the 50 women profiled within the trade paperback's 360 pages, 20 have been interviewed by the author directly for this book. Separated decades from their careers, they have nothing to lose, so they tell it like it is — er, was — with no worries about offending anyone or losing a job. In other words, the book can be spectacular dishy.
Gail Gilmore, who lived with EASY RIDER screenwriter Terry Southern for years, has no love lost for the film's other principals, Dennis Hopper and Peter Fonda, whom she calls "assholes with bad karma and it will follow them through many lives" for allegedly screwing her man out of millions.
Laurel Goodwin thinks Stella Stevens stuck-up and Jackie Gleason "a pain." Sharyn Hillyer calls Joey Bishop an "asshole" who hit on her, even though he was friends with the actress' husband. Quinn O'Hara calls out Jill St. John for being "unbelievably cruel," while Hilarie Thompson dubs Elliott Gould a "pain in the ass," and Lori Williams says Raquel Welch was simply "a major, major bitch … just the worst person I ever met during the time I worked."
Don't get the wrong impression: DRIVE-IN DREAM GIRLS is not merely a book full of sour grapes. It is, by and large, career rundowns of 50 lovely ladies, copiously illustrated with period stills from their films, both memorable and not-so-memorable. But their honesty is refreshing, keeping the collection from being another kiss-ass project of old Hollywood.
Among those interviewed not already mentioned are Sue Casey, Sue Ann Langdon (who appears on the front cover) and Darlene Tompkins. Not interviewed but profiled (sadly, because so many of them have passed) include Brenda Benet, Regina Carrol, Jackie DeShannon, Susan Hart, Marta Kristen, Meredith MacRae, Angelique Pettyjohn and Juliet Prowse.
For whatever reason, it seems like a majority of them have had multiple failed marriages and appeared in a Elvis movie. (And they all have kind words for him.) —Rod Lott