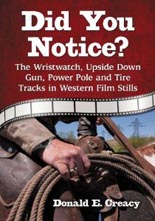 Retired schoolteacher Don Creacy has scoured untold stacks — if not warehouses — of studio-approved 8-by-10s from Hollywood's early Westerns, looking for the odd and unusual in order to compile DID YOU NOTICE? Creacy obviously noticed, and he's made an amusing pictorial collection for the dime-a-ticket film buff.
Understandably, one might assume that the 200-plus examples all illustrate movie mistakes, but not's the case. Mistakes, however, are indeed in near-surplus, including such "oops" moments as a missing belt, anachronistic power cords, an unturning saw blade, an errant crew member and so on.
Elsewhere, the eagle-eyed Creacy simply points out fashion faux pas or some interesting aspect in the still, like how different our Pledge of Allegiance used to be performed, in a style dangerously close to the Nazis' favored salute. The man obviously knows his history, and not just that of Saturday matinees.
Featuring such silver-screen stars as Hopalong Cassidy, Gene Autry, The Cisco Kid, Tex Ritter and Lash LaRue, DID YOU NOTICE? is recommended to die-hard fans of old-school Westerns — we're talking pre-John Wayne, pardner. You know, those movies your grandpa referred to as "oaters," so those who only worship The Duke or Italy's spaghetti efforts need not bother. —Rod Lott