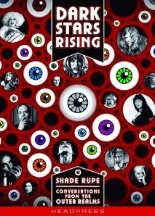 Flipping through DARK STARS RISING: CONVERSATIONS FROM THE OUTER REALMS, my mind was taken back instantly to nearly 20 years ago, when zines were a huge part of my life, and outré books like the RE/SEARCH series were required reading.
Shade Rupe's collection of Q-and-A interviews with fringe stars from every medium — film, music, art, freaky-ass shit — looks exactly like one of those publications, albeit one that runs more than 550 pages. Just so there's no confusion, that's a compliment.
It's not a Crazy Creatives 101-type of guide designed to lure newcomers; it's for people whose interests already exist well past the mainstream — hip, open-minded folks who care about Richard Kern, not Richard Hatch; Jim Van Bebber, not Jim Carrey. When Crispin Glover and Teller are your biggest names, you're doing something right.
Highly reminiscent in look and attitude of the old FILM THREAT VIDEO GUIDE — which was often so dirty, I felt like I had to hide it from my mom and little brothers — the book weighs pretty heavily toward the very independent film side, with discussions with John Waters fixture Divine; Gaspar Noé, who shocked everyone with IRREVERSIBLE (and recently bored me to tears with ENTER THE VOID); William Lustig, director of MANIAC and the MANIAC COP movies; and the lusty Tura Satana, star of cult classics from Russ Meyer and Ted V. Mikels; weirdo actor Udo Kier; and EL TOPO helmer Alejandro Jodorowsky.
I'm not going to pretend I was familiar with everyone interviewed. For example, artist Floria Sigismondi and singer Genesis Breyer P-Orridge weren't on my radar … and still won't be, but that doesn't mean at least a portion of their talks wasn't interesting. I wish I could unsee the things I saw in the Hermann Nitsch chapter.
Yes, DARK STARS RISING is illustrated, and that's kind of an understatement. The Headpress book is heavily designed, with a photo — or photos, plural — on every page. Visually, it's almost like being hopped up on sugar and then reaching for another Twinkie: overload! That matches the DIY energy of the project, however, even if the page numbers are hard to find, squeezed into the recesses toward the spine.
If the Internet has you missing the days of sending stamps and a few bucks for something run off at Kinko's that told of underground gems you'd never find at Blockbuster Video, look to the STARS. —Rod Lott