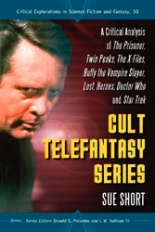 While not a definitive look at the genre its enticing title fronts, Sue Short's CULT TELEFANTASY SERIES is a nonetheless welcome addition to McFarland Publishing's "Critical Explorations in Science Fiction and Fantasy" series, in which this paperback is the 30th entry.
Provided you like a majority of the show listed in the book's lengthy subtitle, I think you'll enjoy reading her essays on each. She focuses on their history, impact and place within pop culture, but don't mistake this for an academic text. Yes, annotations are made and sources are cited, but this is a highly accessible work.
Each chapter centers on a different TV show, and in the order presented on the unremarkable cover. THE PRISONER's brief, but groundbreaking WTF run gave birth to all the series that followed. It's a kick to recall how TWIN PEAKS gripped a nation before flaming out — arguably David Lynch's most successful bid (if he intended such a thing) for the mainstream.
She takes THE X-FILES to task — or creator Chris Carter, to be technical — for allowing the hit to go a few seasons after it dried up creatively. More recently, LOST does not escape her critical fervor, either, especially since the show originally was constructed to last only 12 episodes; its season-after-season insistence on leaving its slew of mysteries unexplained was indeed a cop-out.
And as for HEROES … well, creator Tim Kring just plain fucked a good thing up. Its first season was brilliant, compelling television. Then it promptly hit a sophomore slump that instead of fixing during any of several opportunities to, he compounded the problem by making the show even more complex. Characters died, only to come back; with no real stakes, there was no real reason to tune in.
Short's obviously a fan, not a snooty teacher who turns her nose up at anything not aired on PBS. It's just that her love and admiration isn't unconditional. That honesty is refreshing and appreciated, and for that reason, CULT TELEFANTASY SERIES plays well to those who give such shows a fervent following — people like her, people like you and me.
Following some 200 pages of essays, she offers an "A to Z" appendix of other series that fall into the genre. It makes me wish for several to hit DVD already. —Rod Lott