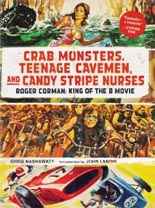 Anyone who writes off Roger Corman as just a schlockmeister is woefully ill-informed. Whether as producer, director, writer and/or distributor, the man is responsible for some god-awful movies … but he's also responsible for some legitimately great ones. And even his god-awful ones can be terrific fun to watch.
Because he revolutionized the indie film biz and birthed many A-list careers, he deserves all the accolades he gets, including that honorary Academy Award from a couple years back. Let's not forget the books, too; many have been written, but Chris Nashawaty's CRAB MONSTERS, TEENAGE CAVEMEN, AND CANDY STRIPE NURSES might be my favorite of them all. It's definitely my favorite book of the year, fiction or non, for many reasons.
For starters, it's an oral history of Corman's career and legacy. Whether the subject is SNL, MTV or ESPN, oral histories on some aspect of the entertainment field are infinitely readable, and CRAB MONSTERS is no exception, star-studded as it is with Corman grads Martin Scorsese, Jonathan Demme, Ron Howard, Joe Dante, Jack Nicholson, Francis Ford Coppola, Robert De Niro, Gale Anne Hurd, James Cameron and a mind-boggling many more.
Sylvester Stallone puts its best on page 145: "Roger was a launching pad of unguided missiles to be launched into space. We were the seeds, and he owned the farm."
For another reason, it's also an art book, jam-packed with photos but more importantly, lobby cards and posters — oh, posters, glorious posters! That's an area in which Corman always excelled; not only would they promise more than the product delivered, but he often commissioned a script after the one-sheet was made.
With coffee-table books, one often finds the text surrounding the visuals to be secondary, if not skipped altogether. That's not the case here. So well-designed you might mistake it for the work of Chip Kidd at first, CRAB MONSTERS can be enjoyed separately as text or visuals, but is deliciously sublime when consumed altogether as intended.
I fell in love with the book almost immediately; less than halfway in, that affection had blown up into obsession, and I devoured the entire thing in one incredibly enjoyable Saturday. I've admired Corman's work for decades, and Nashawaty's book sums it up even better than the joyous 2011 documentary CORMAN'S WORLD.
For movie lovers, CRAB MONSTERS, TEENAGE CAVEMEN, AND CANDY STRIPE NURSES not just gets, but earns my highest recommendation. For the Corman faithful, it's simply an absolute must. —Rod Lott