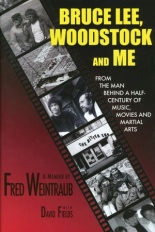 One would think with the title BRUCE LEE, WOODSTOCK AND ME that film producer Fred Weintraub's memoir would be right up the movie lover's alley. And part of it is, but overall, it deals more with his less-public days as music manager than any other topic. Therefore, audiophiles with a love for pop of the 1950s, '60s and '70s will get more from it than fans of chopsocky.
I fall in the group of the latter, and agree with Weintraub that his all-or-nothing crap shoot of mounting an international production intended to make Bruce Lee a household name on this side of the globe, ENTER THE DRAGON, is the best martial-arts movie ever made.
Perhaps sensing its enduring popularity, Weintraub begins his nonlinear autobio with a chapter dedicated to just that. While heaping praise upon Lee's talent, Weintraub doesn't put on blinders, either, acknowledging the star's private faults, from chewing cannabis and regularly cheating on his wife, to the Hulk-like ego that would emerge whenever Bruce got ticked off, which turned out to be a lot.
More problematic was simply the shoot, where language barriers were only one problem. There was also the disappearing couch and the shitting birds, but the details of those stories are best left for the reader to discover. With those, and the entirely of the book, Weintraub emerges as one with a gift for turning conversations and you-had-to-be-there anecdotes into genuine storytelling. It helps, too, that he's not above making himself look foolish.
The gamble of ENTER THE DRAGON paid off, and so did WOODSTOCK, the landmark music documentary/concert film that likely wouldn't have happened without the passionate, 11th-hour support and assistance of Weintraub, who, having music management under his belt, knew the potential gold mine of the material. The behind-the-scenes battle to get that made reads more wrought with obstacles than DRAGON, and they continued well after the footage was in the can.
With a few pages dedicated to the forgettable Tom Selleck aviator adventure, HIGH ROAD TO CHINA, and Steve McQueen's late-career TOM HORN, that's about it for the movies Weintraub discusses at length. Absent, minus perhaps a line or two here and there, are the other actioners I wanted so bad to read about, including the notorious GYMKATA, the all-but-forgotten FORCE: FIVE, the killer dogs of THE PACK, Jim Kelly's blaxploitation turn in HOT POTATO, the utterly bizarre GOLDEN NEEDLES and the early American Jackie Chan vehicle BATTLE CREEK BRAWL, all of which found him reunited with DRAGON director Robert Clouse.
Instead, Fred delves into his other career, managing acts like Mama Cass, Neil Diamond and Bill Cosby, and running a music club. And what do you think was more dangerous for Weintraub: escaping Cuba or working with Amy Irving? As with many of his tales, the answer may surprise you. —Rod Lott