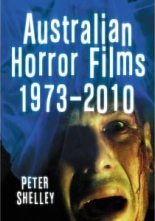 For AUSTRALIAN HORROR FILMS, 1973-2010, Peter Shelley extends the definition to include films shot on the continent, including big, Hollywood confections like the Joel Silver-produced GHOST SHIP. That decision, however, is the mildest of detracting elements for the paperback.
The first is that in his introduction — one that is dull to begin with, which worsens over 12 pages — Shelley doesn't focus on his subject. Instead, he aims to tell the history of the Aussie film industry in general, regardless of genre.
The second is the judgment shown for what counts as horror. To him, HOWLING III: THE MARSUPIALS and PICNIC AT HANGING ROCK do not, yet TURKEY SHOOT and THE LAST WAVE do. That's his prerogative, but it strikes me as inconsistent.
But the largest is that the content is simply tiresome to read. While mostly well-constructed, detailed synopses do not make for a lively reference guide or history, and anyone who's seen Mark Hartley's brilliant, buoyant NOT QUITE HOLLYWOOD documentary knows that so-called "Ozploitation" has more than its fair share of liveliness.
All the expected Down Under directors who enjoyed international success are here, including Peter Weir, Russell Mulcahy, Richard Franklin and Simon Wincer, repped by such crossover hits as THE CARS THAT ATE PARIS and PATRICK. But to what end? Of what use?
Little, I'd suggest, since little actual insight is given into what makes these films tick (or not, as the case may be and often is). Shelley has a gift of making even material involving gratuitous female nudity read like a lecture. For example, take this scene from CASSANDRA:
"Libby undressing and appearing naked before she goes swimming in her pool has more contexts for her nudity than her bare breasts at the beach. … Libby swimming naked in the pool has more context, and as does her removing the robe to sleep naked in her bed."
Say what?
Perhaps academia is the author's intent, but why then the inclusion of such trifles as OUTBACK VAMPIRES, ZOMBIE BRIGADE, HOUSEBOAT HORROR and VOODOO LAGOON? And does anyone need or want a playlist of songs from each movie? And more specifically, the credited songwriters? (I say this a lot with movie reference books, but it bears repeating: Offer me something I can't get from an IMDb search.)
This book: Australian for "nice try." —Rod Lott