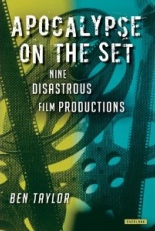 Sometimes the most interesting stories in cinema take place behind the camera. Ben Taylor's APOCALYPSE ON THE SET: NINE DISASTROUS FILM PRODUCTIONS proves that page by glorious page. While hardly the first book to tackle the subject of problematic shoots, it beats the pants off the more superficial entries, such as FIASCO by James Robert Parish (who, incidentally, provides the back-cover blurb).
One smart decision that Taylor has made in choosing which films to focus on is that he didn't pick the obvious. Another is that roughly half of the movies turned out to be widely considered as good, such as Werner Herzog's FITZCARRALDO or Francis Ford Coppola's APOCALYPSE NOW — it just took a boatload of blood, sweat and tears to get there.
And another is that one project, you've likely never heard of. And these days, that seriously counts for something.
Taylor starts with two tales you probably think you've heard enough about already: the three-death accident that plagued TWILIGHT ZONE: THE MOVIE and the financial sinkhole that was Michael Cimino's HEAVEN'S GATE. But in utilizing so many sources to cull together a concise account, Taylor presents them in a manner that proves all too irresistible.
For as much as we've heard about director John Landis' trial in the ZONE case, I had not heard the allegations of arrogance leveled against him as well — the most cringe-inducing piece of evidence being his own words at Vic Morrow's funeral: "Tragedy can strike in an instant, but film is immortal." What an ass!
Even after recently reading a biography of James Cameron, Rebecca Keegan's highly recommended THE FUTURIST, that devotes an entire chapter to THE ABYSS, Taylor's treatment of the same didn't read as the same.
From start to finish, obscure historical parallels included, APOCALYPSE ON THE SET fascinated me. Failure can be winning. Sequel, sir? —Rod Lott