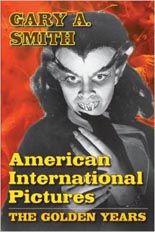 Gary A. Smith's AMERICAN INTERNATIONAL PICTURES: THE GOLDEN YEARS is not a history of the legendary B-movie studio. He already wrote that book with THE AMERICAN INTERNATIONAL PICTURES VIDEO GUIDE. While that 2009 tome was published by McFarland & Company, this 2013 Bear Manor Media release can be treated as a companion.
Just bear in mind exactly what the book is: a more-or-less chronological collection of press releases, industry articles, film reviews and other ephemeral material covering AIP's glory days, which is to say practically its entire existence, roughly from Roger Corman's THE FAST AND THE FURIOUS to John Hough's THE LEGEND OF HELL HOUSE.
In other words, Smith wrote very little of the book beyond the introduction and transitionary material. There's no traditional narrative, either — just a quick-clip tour from one insanely profitable, teen-targeted movie to another. Photos and poster art abound.
While such a thing is tough to review, it's certainly not taxing to read. That said, AMERICAN INTERNATIONAL PICTURES: THE GOLDEN YEARS comes recommend to AIP completists only. —Rod Lott
Buy it at Amazon or Bear Manor Media.