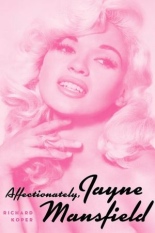 Having recently immersed myself in the films of Frank Tashlin, I've been harboring such a lust-driven crush for Jayne Mansfield ever since that I wanted to read about her entire life and career. I could find none — at least any that looked good or were in print — until Richard Koper's AFFECTIONATELY, JAYNE MANSFIELD happened to plop along from Bear Manor Media.
Turns out, it was just what I was looking for and all that I hoped it would be — namely, a work of nonfiction that would:
1. run through her life in a fairly nimble fashion, but without being flippant about it;
2. concentrate on her filmography; and
3. contain hundreds of photos that the 15-year-old me would've run behind a locked door with.
While Koper is obviously a huge fan of Mansfield, he does not allow that to detract him from his job of telling her story, warts and all. Those warts mostly amount to her drinking problem and that she was — how to put this? — kind of a major slut. The girl can't help it: She just fell in love with so many co-stars and creatives and money men that I just plain lost track.
She also made some horrible, terrible career choices, which took her from the heights of fame to the D list with incredible speed. And yet, I love watching her movies, from the legitimately good ones to the truly awful ones — and there exists more of the latter.
But Mansfield had genuine talent that went beyond her exquisite breasts, and Koper is quick to remind readers of this often, with critical quotes from her era to back that up. She was also much smarter than she played. I find her better — and definitely sexier — than the screen icon she always ran a distant second to, even in death: Marilyn Monroe.
If you agree, you're going to love AFFECTIONATELY. Numbering nearly 400 pages, the paperback is generously illustrated, briskly written, mostly free of errors, and arguably the definitive work on her work — movies, TV, stage and all. Those inclined to disagree may be swayed by a va-va-voom appendix of full-page reproductions of her magazine covers. Yeah, I thought so. —Rod Lott