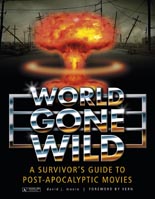 Despite summer movie season being in full swing, I've been uncharacteristically lax in visiting the multiplex for air-conditioned audiovisual action, and what little I have seen has underwhelmed. As the seven reviews below prove, I've been reading about the movies more than watching them. After all, the rewards can be greater and you don't have to worry about teens texting.
The definitive book of the increasingly popular subgenre of collapsed-society cinema has yet to be penned. Until then, we'll make do with David J. Moore's WORLD GONE WILD: A SURVIVOR'S GUIDE TO POST-APOCALYPTIC MOVIES. Admirably heavy, the Schiffer Publishing hardback casts such a wide net, Ishmael would be proud, as VIDEOSCOPE zine contributor Moore digs well below the surface level of MAD MAX and its imitators to mine the obscure, forgotten and never-known. Capsule reviews are arranged alphabetically and supplemented with Q-and-A interviews (Roddy Piper and Stuart Gordon are among the bigger names; others will ring no bells and have little of value to share) and gloriously illustrated with full-color posters from 'round the globe. Trouble is, while his love for post-apoc flicks is unparalleled, Moore just isn't a compelling writer — certainly not enough to justify the pretension of never capitalizing his name, à la ee cummings. I cannot figure out which irks me more: That the work is rife with run-on and incomplete sentences or intentionally ruined endings. Let's call it a draw; for sheer visuals alone, WORLD GONE WILD is worth holding onto for bunker and/or toilet reading.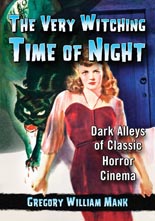 For McFarland & Company's THE VERY WITCHING TIME OF NIGHT: DARK ALLEYS OF CLASSIC HORROR CINEMA, Gregory William Mank has rounded up a baker's dozen of articles dedicated to fright films of the 1930s and 1940s. While the result is a mishmash of subjects, its appeal is to the serious student of horror's infancy is undeniable, and he or she will find the contents infinitely readable. From the classic CAT PEOPLE to the crass MURDERS IN THE ZOO, Mank chronicles behind-the-scenes stories with a bent toward studio-era minutia and SHOCK THEATRE nostalgia. Anyone left wondering, "Who the hell is Helen Chandler and why should I care about her?" should move further down the shelves; this collection is not for them.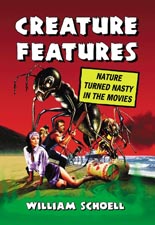 Now reissued in an affordable paperback edition of McFarland's original publication of 2008, CREATURE FEATURES: NATURE TURNED NASTY IN THE MOVIES finds William Schoell exploring the terrain of what I like to call "animal-attack films." As the EMPIRE OF THE ANTS cover suggests, however, the book is like a picnic to which you've long looked forward, only to see it spoiled by uninvited pests. Schoell divides his examination of these flicks by species, but the narrative is too loose and scattershot to spark that all-important reader joy. Such a subject would be better-served if presented as reference with individual titles getting their own reviews vs. what we do have: an occasionally interesting but meandering trail through bug-and-beast cinema. CREATURE FEATURES' forced narrative is overly weighted with plot synopses, and while well-illustrated, it simply lacks the fun exuded by the B films themselves.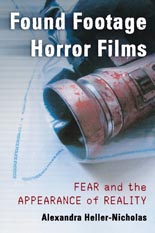 As she did with her 2011 study of RAPE-REVENGE FILMS, Australia-based author Alexandra Heller-Nicholas provides a gratifying, thorough and wide-in-scope look in FOUND FOOTAGE HORROR FILMS: FEAR AND THE APPEARANCE OF THE REALITY, also from McFarland. Thanks to PARANORMAL ACTIVITY turning about $20 into nearly $200 million, Hollywood's most profitable trend du jour shows little signs of slowing down (especially as more big-ticket blockbusters fail to register). Heller-Nicholas could have written a fine book on that financial level alone, but rather than settle, she probes the deeper meaning of why audiences respond to the no-frills approach, not to mention why now, as the movement dates several decades. Unsurprisingly, she has done her homework and then some — titles are discussed that even I haven't heard of — and makes her case in a way that does not require prior consumption of the movies. Even better, watching them after reading the book will enhance your experience by coming armed with her insight.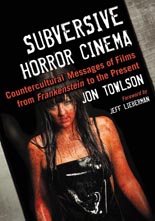 One could argue that the entire horror genre is subversive, given its historical treatment as either one notch above pornography or sharing the same step. In the McFarland-pubbed SUBVERSIVE HORROR CINEMA: COUNTERCULTURAL MESSAGES OF FILMS FROM FRANKENSTEIN TO THE PRESENT, Jon Towlson narrows his focus to those filmmakers who exhibited "political engagement with the issues of the time and their use of the horror film as a form of protest," and argues that such movies connect with viewers most in times of national crises. If that sounds like a lecture, loosen up! Towlson's terror trip through history yields plenty of fascinating examples, from how director James Whale's homosexuality made its way into Boris Karloff's portrayal of the FRANKENSTEIN monster, to how Tod Browning's FREAKS can be seen as an allegory for the Great Depression's legions of the disenfranchised. More recent examples include the usual suspects (THE TEXAS CHAIN SAW MASSACRE, NIGHT OF THE LIVING DEAD), but also left-field choices (Jeff Lieberman's BLUE SUNSHINE and both of Brian Yuzna's DENTIST slashers). Learn and enjoy.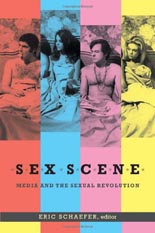 While we eagerly await historian Eric Schaefer's sexploitation follow-up to 1999's essential BOLD! DARING! SHOCKING! TRUE!, the new Duke University Press collection he has edited makes for a spicy, satisfying appetizer: SEX SCENE: MEDIA AND THE SEXUAL REVOLUTION. While Schaefer has penned only the introduction and an essay on Swedish "sinema," that's hardly a negative, as he's assembled a stellar lineup of academic authors who know their stuff. That their stuff includes everything from MPAA ratings flaps and "party records" to the (ahem) rise of porn chic and how TV's THE LOVE BOAT struggled to hint at cabin couplings, means the book is like a class you wish existed, just so you could audit the entire semester. Collectively, the text is the smartest person at the party without also being the snobbish dick at said soirée, and it makes for a perfect, if wholly inadvertent companion to Robert Hofler's recent, recommended SEXPLOSION, which covers some of the same, semen-stained ground.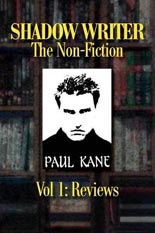 Finally, Paul Kane's book on the HELLRAISER franchise was such a smart and detailed analysis that I looked forward to his first collection of film criticism, yet the Kane of that 2006 work stands in stark contrast to the Kane of SHADOW WRITER: THE NON-FICTION — VOL. 1: REVIEWS. Clumsily titled, the Bear Manor Media paperback champions a fair share of indie gems; that said, there isn't much its author doesn't like. In fact, he likes some things too much. If everything is ranked on a 10-point scale, yet THE CABIN IN THE WOODS somehow earns an 11 (and worse, MARVEL'S THE AVENGERS, a 12), what's the point? That kind of fanboy gushing leaves a bitter aftertaste, as do the flood of incomplete sentences, factual doozies and a problematic crutch on formula that is apparent immediately — spot the trend among these phrases culled from separate reviews:
• "I wasn't expecting much from this film …" (page 11)
• "I have to be honest, I wasn't expecting a great deal …" (page 13)
• "I have to admit I wasn't expecting much …" (page 32)
• "I have to admit, I was expecting to hate …" (page 53)
• "I have to admit, by the end of this …" (page 54)
• "I'll admit I wasn't expecting much …" (page 93)
And, I have to admit, that's far from a complete list. —Rod Lott