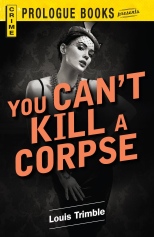 Jim Clane is a salesman. Well, that's how he presents himself. Clane is more a gun-for-hire type of worker — a man who you give a large sum of money to do jobs that no one else will. This time he is hired to "help" with a local election by trying to discredit the mayor who has been in office far too long — that's according to Thorne, the man who hired Clane.
Once Clane is in town, it's obvious the town is about as crooked and corrupt as they come. So this job becomes even more intriguing for Clane. He figures the best way to get started at his job is to become a distraction of sorts, with his first actions of that causing a near-panic at the political gathering.
Soon, Clane becomes the scorn of the local mayor and his very important influential friends. But none of this is going to dissuade him from his job.
Then things take a turn that Clane did not expect, after meeting with a local reporter who winds up dead with plenty of evidence around his body to show someone is being set up. But that's not the only death that happens — just as soon as the body of the reporter winds up in Clane's lap, so to speak, when the local newspaper publisher is also dead. It is made to look like a suicide, except the gun that did the deed is missing.
What's Clane to do? Simple: Find the real killer and make sure he is not suspect No. 1. But with this town and the crooked cops, it won't be easy.
Louis Trimble's YOU CAN'T KILL A CORPSE really goes into the whole aspect of how even in small towns, corruption can easily take hold, even to the point of alibis being set up just to blackmail the people they are trying to protect with them. Clane is giving every opportunity to make sure he has an ironclad one, including sleeping with Thorne's very willing wife.
Trimble was not an author I was ever familiar with, but now with this 1946 reissue from Prologue Books, that's about to change. He was not only prolific in the mystery/crime genre, but had just as much output in the Western area, which only makes me want to grab everything now. In this story alone, Trimble shows a lot of depth in keeping readers guessing until the end.
Some of the story comes off a little dated, but then, consider its time. Some morals were a bit taboo — namely, Clane working his "magic" with a local switchboard operator who will become his wife. I mean, we can't have that sort of hanky-panky!
Crime lovers will want to not only check out CORPSE, but the long list of crime reissues Prologue has now collected for the e-reading masses. —Bruce Grossman