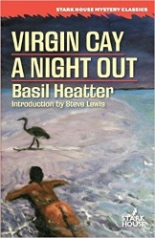 When you think of crime fiction based near the Florida coast, you obviously think of John D. MacDonald. But Basil Heatter, a news commentator and author, was also active during MacDonald's early career, and portrayed a much more foreboding side to these seafaring locations. Now two of Heatter's crime novels, VIRGIN CAY and A NIGHT OUT, are available again as part of Stark House's Mystery Classics series, and demonstrate not only Heatter's familiarity with the southeastern seacoast, but also his skills with plot construction and characters.
Gus Robinson's boat is sinking as VIRGIN CAY opens. Robinson struggles to the shore, where he meets Clare. She offers him shelter as well as her bed. Then Clare offers Robinson a chance to earn enough money to buy a new boat and regain his beloved freedom. All he has to do is kill the one person who stands in the way of Clare and a huge inheritance. But then Robinson meets his intended victim and faces an unexpected choice.
A NIGHT OUT finds Johnny Flake captaining a run down to Cuba with two shady and untrustworthy shipmates. Then Flake discovers that instead of smuggling booze off the island he is really carrying heroin. New problems arise as a mutiny forces Flake off his boat and on to a yacht owned by Allan Chambers and his overly promiscuous wife, Jessica. Suddenly Flake finds himself in a race with his former shipmates to reach a little island off Key West.
The tone of both novels is downbeat, but more so with A NIGHT OUT. Robinson loves his life at sea, while Flake and his crew see it more as a means to their financial independence. And while VIRGIN CAY follows a mostly straight-line path through its narrative, A NIGHT OUT includes several chapters tracing the background and previous lives of its main characters. Thus the perspective shifts frequently in A NIGHT OUT, while VIRGIN CAY stays mostly with Robinson's point-of-view.
But both novels contain unexpected plot twists and the protagonists change their attitudes as both stories progress. Catching the reader off guard and left wondering what's likely to happen next are the ways Heatter builds the suspense running through his stories.
The coastlines and the sea itself are common to both novels, but are once again presently with marked differences. Flake and his shipmates are familiar with all the dives and ports along their routes and often take refuge in these cramped, smoke-filled enclaves. Robinson, on the other hand, prefers to take his refuge alone aboard his boat, and Clare sees her coastal home as little more than an escape from her life further inland.
A bibliography of Heatter's other sea-bearing novels, short stories, and non-fiction is included. There is also an introduction by Steve Lewis that, unfortunately, was not included with the review copy.
Heatter will never replace MacDonald's popularity. But those who enjoy crime fiction that takes its characters out to sea, or readers curious about the sort of intrigue that lingers just off the mainland, will thank themselves for adding Heatter to their bookshelves. —Alan Cranis