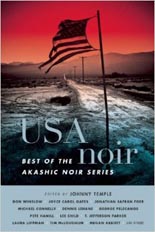 With more than 60 books in its geography-based NOIR anthology series since 2004, the folks at Akashic Books thought it was time to step back and highlight the best of the original stories from 32 titles focusing on various American states, cities and locales. The result is USA NOIR, a hefty, 548-page collection of stories from the country's finest crime-fiction authors. Talk about your embarrassment of riches!
 
In his introduction, editor Johnny Temple recalls, "From the start, the heart and soul of Akashic Books has been dark, provocative, well-crafted tales from the disenfranchised." After a brief history of the publication house's early days in the late 1990s, he tells how they launched the award-winning series with BROOKLYN NOIR.
Rather than grouping this "best of" collection by location, Temple decided instead to present them under six general characteristics. The first section, "True Grit," features the story "The Confidential Informant" by George Pelecanos, a first-person account of the day in the life of a young Washington, D.C., street snitch and his skewed sense of responsibility and justice. It's enhanced by Pelecanos' acute sense of place.
 
"American Values," the second section, includes Reed Farrel Coleman's "Mastermind," where a Long Island lowlife who works as the muscle for local loan shark comes up with an elaborate robbery scheme intended more to impress his boss than to get rich quick. The following section, "Road Rage," leads off with "Mulholland Drive" by Michael Connelly, in which a reconstructions detective gathers evidence and data at what looks like a traffic accident on one of L.A.'s notable streets, until we learn what the detective doesn't include in his written report.
Don Winslow's "After Thirty" leads off the "Homeland Security" section. A World War II sailor shacks up with a girl he met in a San Diego area bar. Now, after 30 days, the sailor knows that his AWOL status is becoming a full desertion charge and he must make some important decisions fast.
 
Crime-fiction grand master Lawrence Block contributes "If You Can't Stand The Heat" to the "Street Justice" portion. What at first seems like a story of a routine pick-up in a bar in Manhattan's Hell's Kitchen area turns unexpectedly sinister when the man brings the attractive young woman to his apartment. This same section also features Tim Broderick's "Feeding Frenzy," the story of the unanticipated reasons why a merger deal ushered by a team of Wall Street brokers goes horribly wrong — told entirely in comic-book format.
 
Add names like Megan Abbott, Lee Child, Joyce Carol Oates, Jeffery Deaver, Laura Lippman, T. Jefferson Parker, William Kent Krueger and several others to this already impressive list of contributors, and you can easily see why this collection of 37 stories stands head-and-shoulders above the rest of the original anthologies available these days.
 
True to the series format, brief biographies of the contributors are included following the stories. Additionally, you'll find the names and contents of all of the individual volumes that were the source of this collection. Finally, like a proud father boasting about his children, Temple includes a trophy-case listing of the various awards, prizes and honors the series has received to date.
 
This is, without question, a must-have collection that serves equally well as an introduction to each of the authors as it does the NOIR series itself. Regardless if you read the stories in the order presented, or go directly to those by some of your favorites, you'll find USA NOIR on your nightstand or reading table for many nights.
 
To its credit, Akashic Books publishes many other titles across a swath of genres, but it's this ongoing series that has made it a household name with crime-fiction readers. Now, after almost a decade, its time for us to raise a glass and say thanks to Temple and company for all these years of dark, provocative and very well-crafted stories. —Alan Cranis