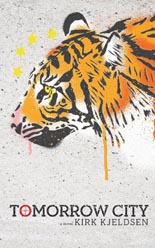 Former freelance journalist and current film professor Kirk Kjeldsen's TOMORROW CITY has a lot going for it as a first novel. It's focused, slim (just under 200 pages) and blissfully free of most of the pretentious self-indulgences that plague many debuts.
 
After finishing a prison sentence, Brendan Lavin has made an honest and mildly successful living running a small bakery in New York City. But when money suddenly becomes tight and his suppliers no longer trust him, he agrees to take part in an armored car robbery with some of his ex-con friends.
The heist goes terribly wrong and leaves four people dead. Lavin escapes, immediately leaves his home and business behind and ends up in Shanghai. There, in 12 years, he has changed his name, built another bakery business, married a local woman and started a family.
His past catches up with him when one of the members of the failed robbery teams finds him, and soon, a new scheme is in place to knock over a wealthy diamond merchant. Lavin refuses to be part of it, until the robbers threaten to expose his criminal past … and kill his family. So once again, Lavin finds himself part of a robbery he is certain will go wrong and cause his peaceful life to unravel.
 
Kjeldsen's theme is obviously the dead hand of the past and how hard it can be to escape its grip. It's convincingly portrayed for the most part, as memories and ghosts haunt Lavin's thoughts. But then one particular ghost becomes literal, as the decaying spirit of a dead partner from the NYC heist appears to warn Lavin not to repeat the mistakes of his past. It's an effective moment, but unfortunately, the author repeats it throughout the book until it loses its value and becomes silly.
 
Other than this minor mishap, the characters are all subtly portrayed and easy to believe in — especially the outlaw gang that Lavin can't seem to shake from his life. Kjeldsen's prose is direct and to-the-point, yet wonderfully evocative when describing the various sights and conflicting characteristics of modern-day Shanghai. Owing to Kjeldsen's profession, movie references abound throughout the narrative.
 
Perhaps the best news is that TOMORROW CITY maintains its suspense from beginning to end, and thus, keeps us curious about Lavin's actions and eventual fate. You can't ask much more than that from any crime novel. So let's celebrate this debut and see what else Kjeldsen has in store of us. —Alan Cranis