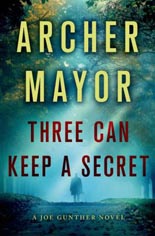 THREE CAN KEEP A SECRET is the 24th title in Archer Mayor's series of police procedurals featuring Joe Gunther and his associates on the Vermont Bureau of Investigation. Amazingly, the narrative and the series characters remain as fresh, intriguing and relevant as in the earlier titles — no small feat.
Hurricane Irene tears through the state of Vermont, leaving a trail of destruction and making the lives of Gunther and his fellow VBI investigators busier than ever. Two particularly noteworthy cases occur following the hurricane's departure.
A 17-year-old grave site is exposed and a coffin is found full of rocks. Around the same time, a female patient of a state mental facility, known to the staff and fellow patients alike as "The Governor," has walked away from the hospital grounds in the chaos following the post-hurricane flood.
While each case is essentially different, they both slowly reveal personal and professional secrets kept hidden for many years. While one investigating team travels across the state to locate the family of the man who should have been buried, the other team discovers that former associates of The Governor, including a once high-ranking political figure, are suddenly found dead of mysterious causes — and murder is suspected.
 
Mayor's prose is unpretentious and alluring, yet displays a masterful, effective economy when describing the characters and action. His Vermont hometown, as well as the rest of the state, still fascinates him and he generously shares all the various scenes and character types with his readers. They range from the isolated hermits in rustic, remote and mostly forgotten corners of the state, to the affluent and old-money power mongers who reside in the wealthier mansions of the urban settings. Yet all are fiercely independent — a proud hallmark of the upper northeastern area that Mayor knows well.
 
The focus, not surprisingly, shifts back and forth between the two main stories, yet the author maintains a balance between them and often changes the focus within a single chapter. This allows him to continually add new information while keeping the suspense and reader's interest sharp.
 
Gunther and his crew are already familiar to longtime series fans. Yet here again, Mayor keeps things lively by adding new personal conflicts and involvements to each of the major players. Rather than focus on the private, after-hours lives of his characters in separate chapters — a fault of many police-procedural series — Mayor weaves them directly into the main narrative flow. This manages to add an extra sense of reality to the novel, since we know that cops and other high-pressure professionals rarely (if ever) keep their personal lives completely separate from their jobs.
 
Those new to the series might think it best to start with an earlier title or two before picking up THREE CAN KEEP A SECRET. Fortunately, Mayor makes it as easy to become acquainted with Gunther and his partners here as he does in any of the previous books.
 
That's good news, because any crime-fiction fan who appreciates inventive plots with equally involving characters will want to experience more of Gunther and his VBI fellows once they finish this. —Alan Cranis