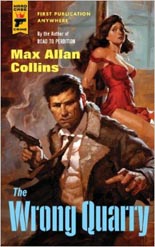 It's been a while since we've had a new novel about Quarry, the hit-man protagonist of the long-running series by the prolific and reliable Max Allan Collins. The latest, THE WRONG QUARRY, retains all the expected qualities of the series while taking Quarry in a slightly new direction — one well worth the two-year wait.
 
Quarry has found a new use for his talents. These days, he only targets other hit men, allowing him to seek out an intended target and offer his services to not only eliminate the assassins, but also who hired them. It's more time-consuming, to be sure, but Quarry is good at it and has made it a lucrative trade.
As the Hard Case Crime novel opens, Quarry is following a hit man through the Midwest and eventually ends up in Stockwell, Mo., a small town whose main trade is tourism. His surveillance reveals that the target of the hit is a male dance instructor suspected of having an affair with a missing high school cheerleader … and possibly killing her.
 
The dance instructor insists he is innocent, so he takes Quarry up on his offer to find those who contracted the hit. The trail leads to the cheerleader's wealthy family, yet Quarry finds that the town has no shortage of those who would resort to murder — directly or by hire — to cover their tracks.
 
This new niche allows Collins to have Quarry act like a private detective, so he has Quarry take on the disguise of a freelance newspaper reporter in order to acquaint himself with the locals and learn about their lives and possible motivations. Quarry eventually peels back layer upon layer of suspicion, hatred and revenge as the plot complications pile up and the trail to those who hired the hit becomes less clear-cut.
 
There are times when it almost seems too much, and Quarry is tempted to take his cash advance, skip town and let the local drama play itself out. He even entertains thoughts of settling down with a local woman he meets in a bar and for whom he seems to be falling. Yet amid all the various characters and complications, Quarry regains sight of his mission and what originally brought him to Stockwell.
 
The methodology might be different, but the first-person narration has all the hard-boiled cynicism and black humor we've come to expect from a Quarry novel. That, along with the moments of cold violence and casual sex, reminds us that while he has taken on slightly different techniques, we are still dealing with — and ironically cheering on — the same determined and resourceful Quarry as in all the previous works.
 
Those new to the series might want to first seek out and read a few of the earlier Quarry novels to fully appreciate the character and different function presented in THE WRONG QUARRY. You'll appreciate the effort.
Thanks to Collins' continuing insight and inventiveness, Quarry is among the most fascinating and complex anti-heroes on the scene today. And that's why having him back again is cause for celebration. —Alan Cranis