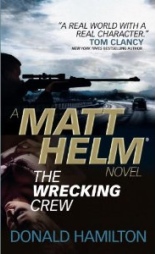 Continuing with its massive reissue campaign of the Matt Helm series, Titan Books follows up DEATH OF A CITIZEN with 1960's THE WRECKING CREW, the second in Donald Hamilton's series.
A year has passed since the events of CITIZEN, and readers will not be shocked by the turn of events: that, of course, Helm is separated from his wife because of what happened. Throughout this sequel, Hamilton makes very brief mentions about some of those events. All of these mentions are important since Helm is explaining that he is a man of action and not one to sit idly by. After a refresher course of sorts, Helm is sent on a mission to Sweden to track and kill a man named Caselius.
Helm is to use a cover as a photographer to track this person down. As soon as Helm arrives, he finds that some of his contacts are not the most trustworthy. Hamilton has no problems adding to the body counts in these books, and in THE WRECKING CREW, anyone can take a bullet at any time. As soon as Helm makes any progress, the bodies start dropping, to the point he is accused of some of this dirty work. But Helm does not really get into the gritty parts until much later.
Hamilton loves the idea of numerous agencies working with their own agendas, since Helm is not the only person on the hunt, so to speak. When it's all said and done in the final confrontation, Helm will follow his orders to the letter, even when people are ready to surrender. And even when he is questioned about how some people were killed, he is always matter-of-fact about it: Backs turned or not, a bullet usually ends it all.
Hamilton never drags things out here. By the end, all loose ends have been tied up while setting the stage for what's to come. THE WRECKING CREW is just as brutal as its predecessor, showing the reader exactly how much of a nonstop killing machine Helm can be. —Bruce Grossman