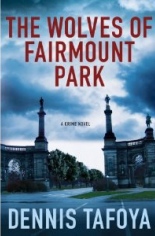 Following the groundwork he laid down in his debut, DOPE THIEF, Dennis Tafoya follows that tough act with THE WOLVES OF FAIRMOUNT PARK, located in the seedy parts of life. The plot deals with "two good boys" who were the victims of a drive-by shooting. Was it a case of "wrong place, wrong time," or, as one character explains, did the town not truly know the kids?
Brenden Donovan is a cop whose son is one of the victims, while the other father, George Parman Sr., is left distraught through the whole process. Then you have the investigating cop, Danny Martinez who just can't figure it out, and Brenden's brother, Orlando, a junkie who lives near the site of the shooting.
Tafoya details the investigation, but more to the fact, follows Orlando's journey to prove himself that he is not just looking for his next fix. He works the streets to find out the truth of why these two kids were shot, leading to a discovery that will shake the men to their foundations. Those expecting action, look elsewhere. This story is seriously grounded in reality, showing that people with good intentions sometimes end up with the short end of the stick.
People who read Tafoya's previous novel will relish this one, as he is a rising talent. His voice is on par with his compatriots and, I'm guessing, will surpass a few of them if he continues to grow as a writer. —Bruce Grossman